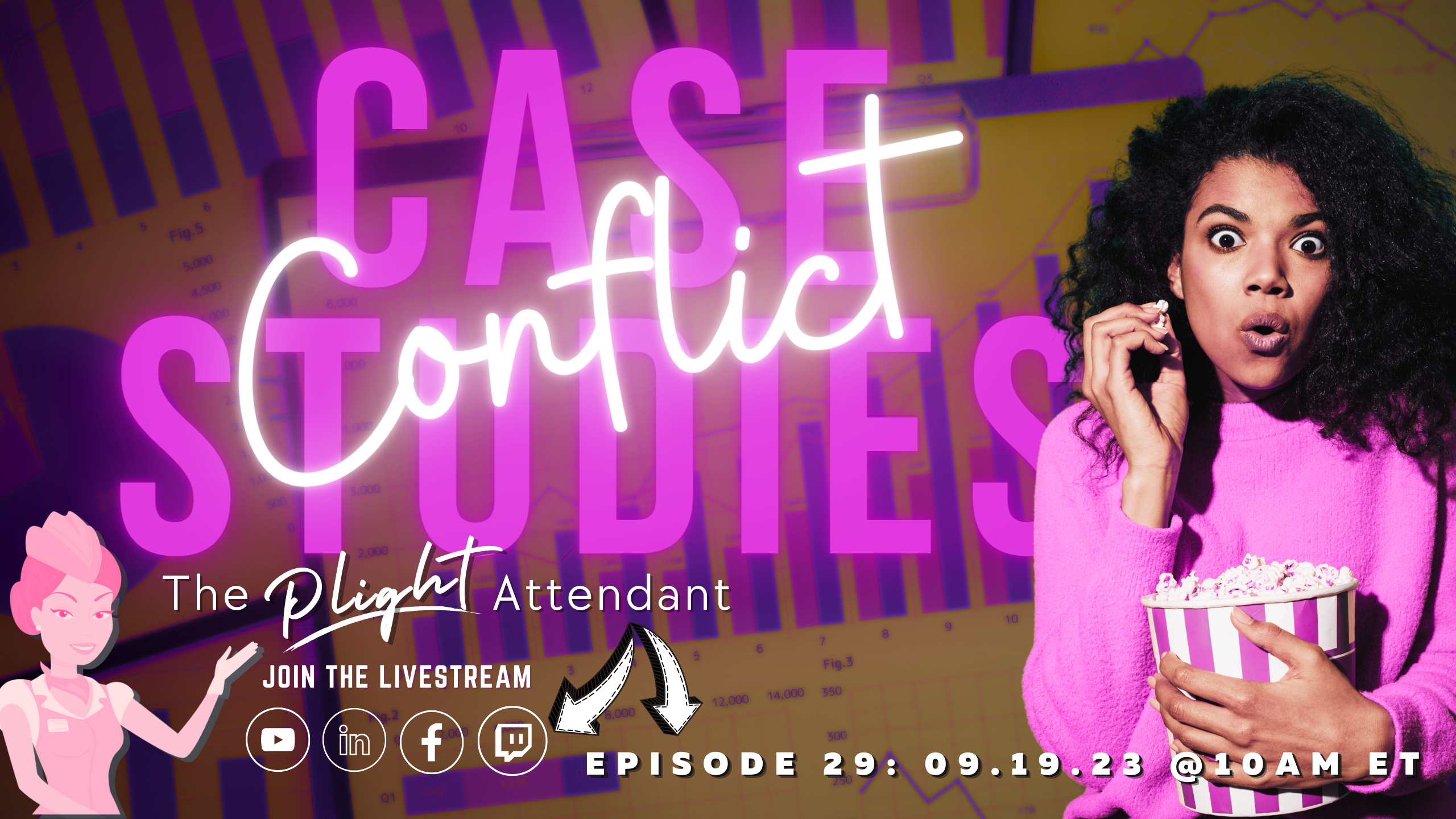 Have you ever watched a dispute go off the rails when people are so upset and uncomfortable they just don't know how to handle it and then whole thing goes nuclear?
It can feel like being in a bad TV drama – but it doesn't have to get that far.
There are strategies and techniques to help us effectively manage all kinds of conflict – the kinds we face every day.
And how lucky are we that Leslie Nydick – The Conflict Strategist – is here to share Conflict Case Studies on Episode 29 of The Plight Attendant show!!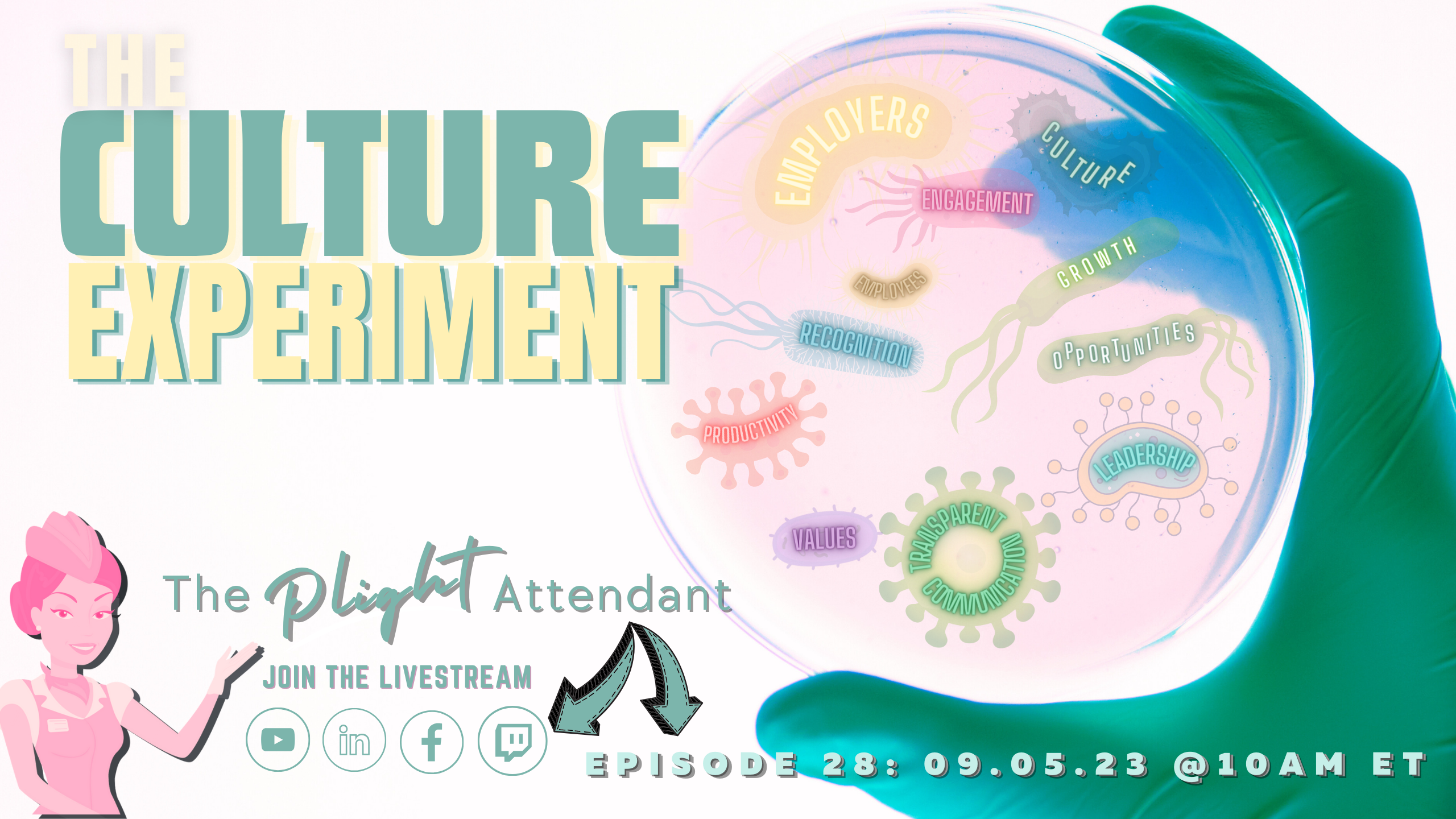 Reports show that more than 70% of people would change jobs for one with better company culture and 71% of CEOs agree it's a driving force behind positive financial performance.
If there's so much agreement, what's behind the lack of consistency when it comes to creating and sustaining meaningful workplace culture?
👆THAT is exactly what my special guest – Charity Hughes, SHRM-SCP – and I will be talking about this week!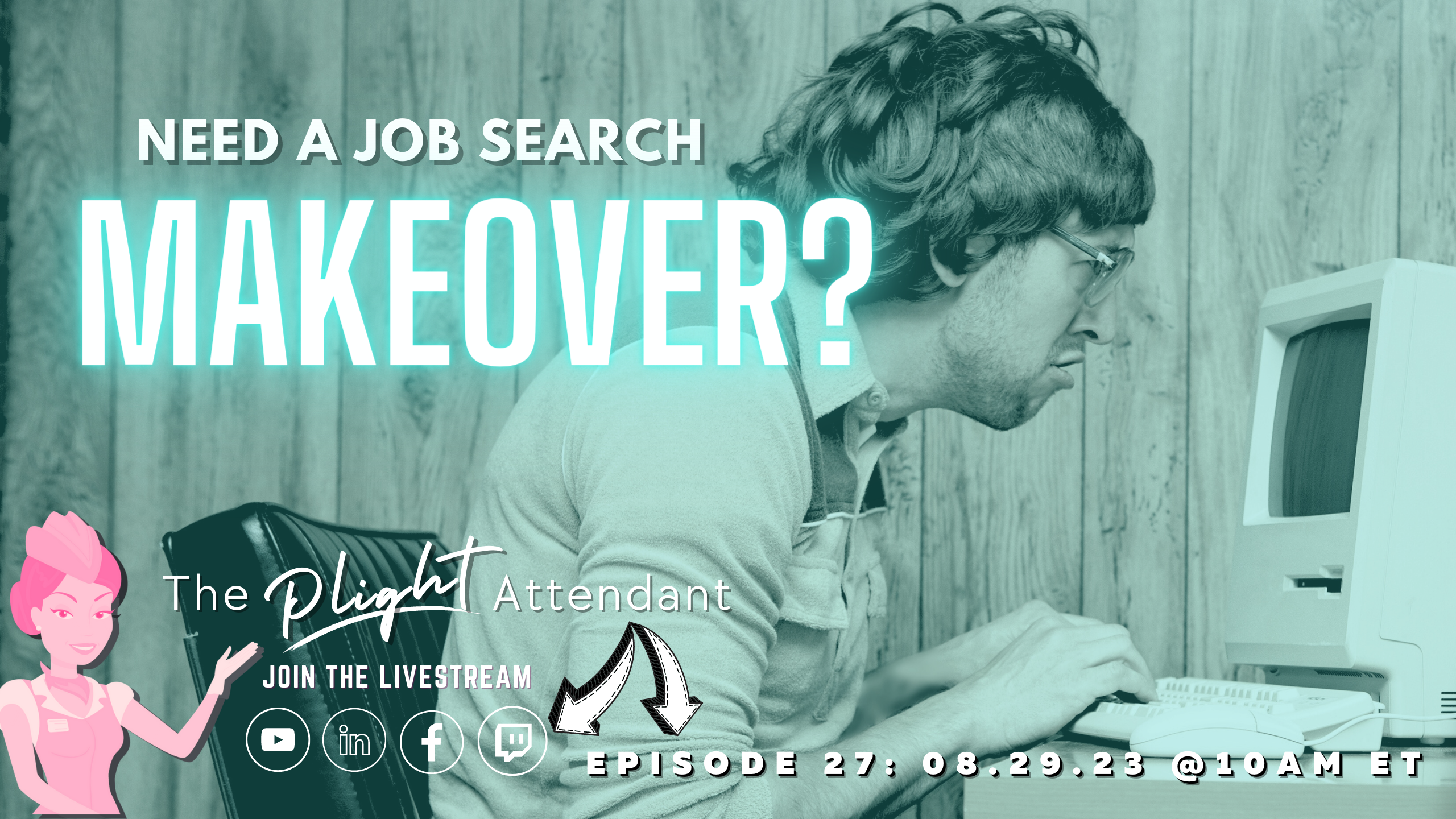 Let's face it – times have changed.
The job search strategies that used to hit the bullseye aren't getting you anywhere near your target now. 
But, do you know why? 🤷
✨Career and Executive Coach Anne Genduso joins me to share tips to give your job search a makeover that gets results.
Learn what works from a certified expert!
Watch Episode 27!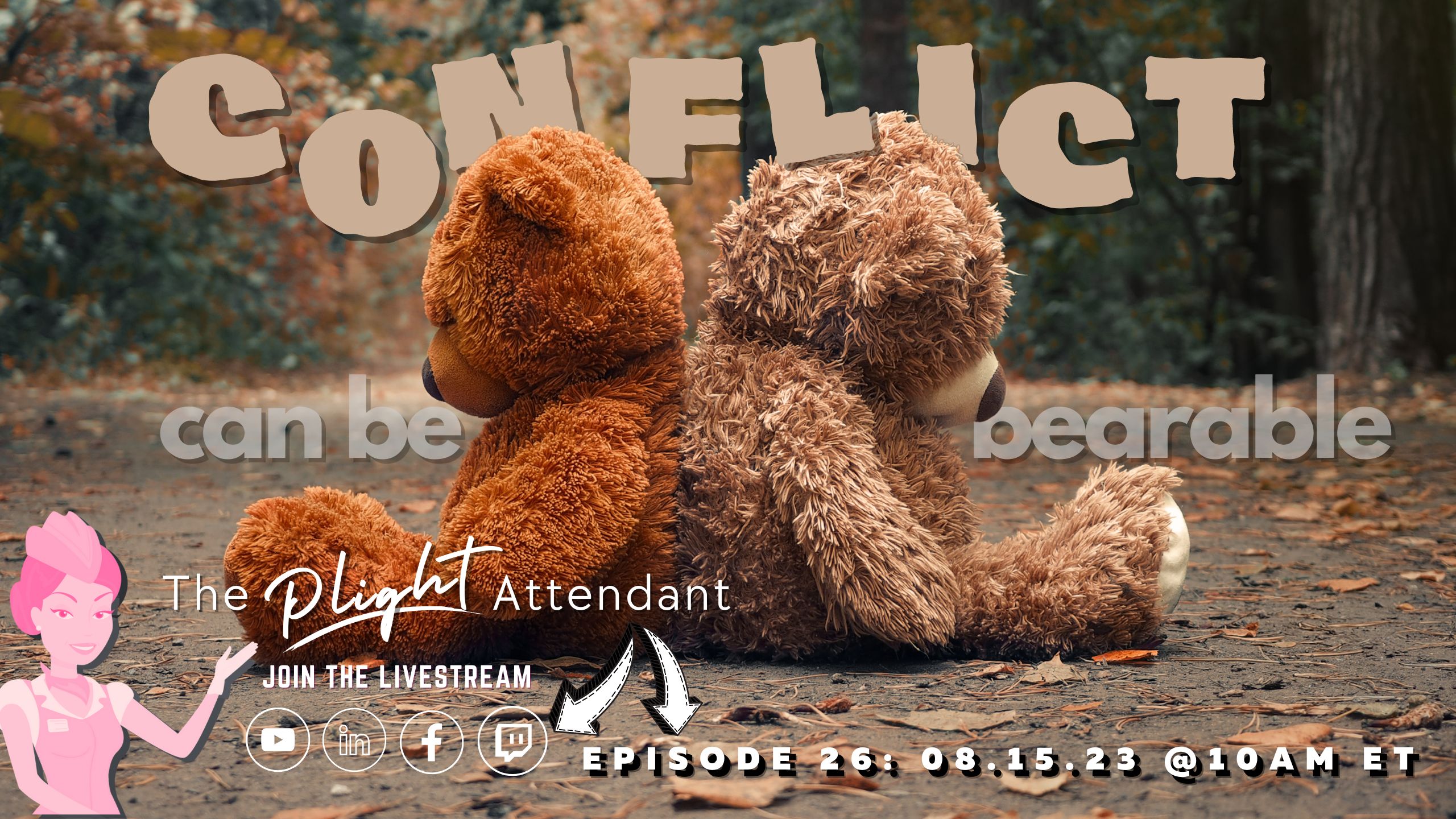 What does 'CONFLICT' mean to you?
What feelings does it bring up for you?
Conflict often means the end of conversation, but it CAN be the start of something wonderful!
👆THIS was the conversation with Leslie Nydick 🎉THE CONFLICT STRATEGIST! 🎉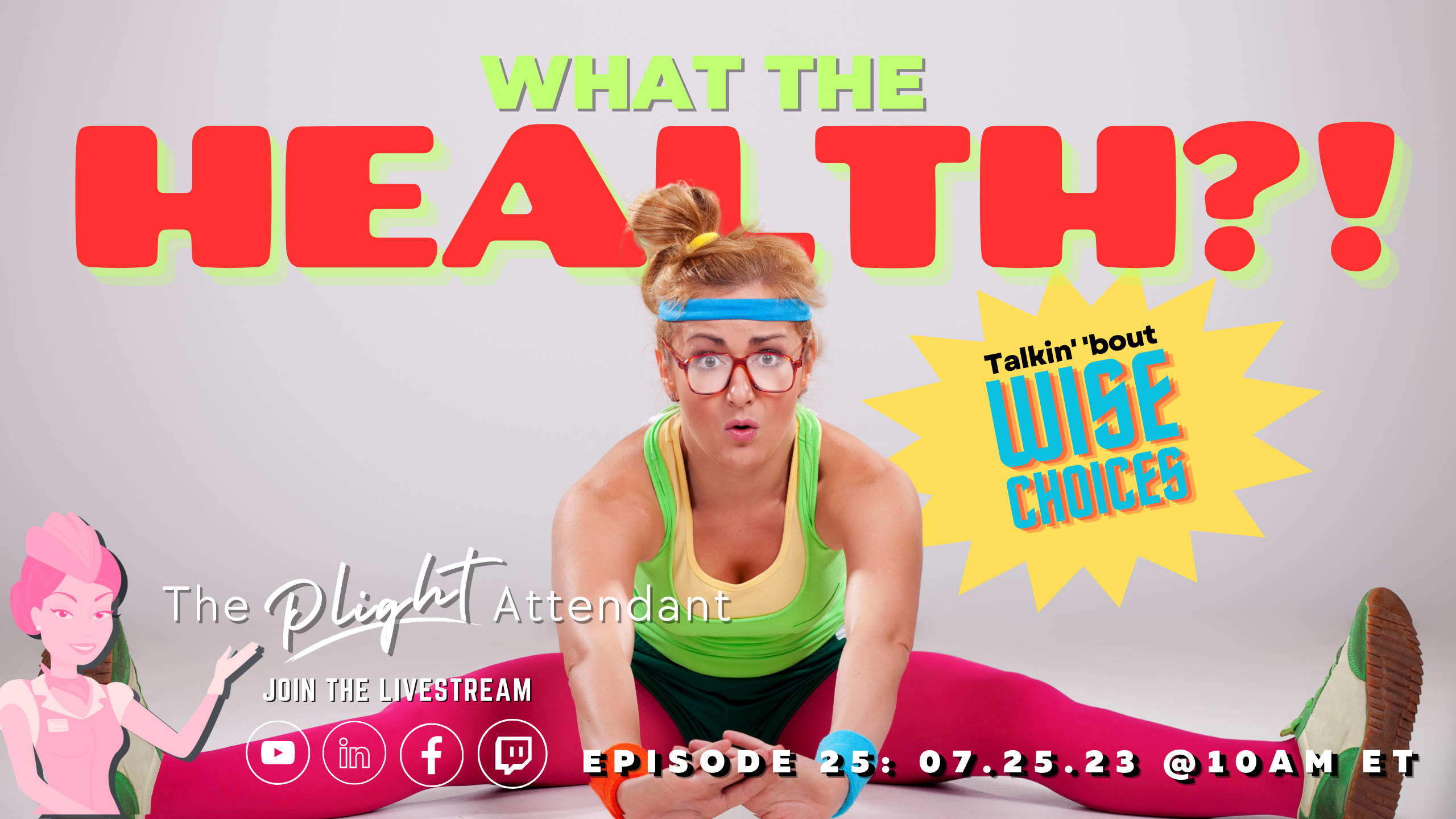 If you've ever felt like it's just a giant pain in the
to live a healthier lifestyle then Episode 25 of The Plight Attendant show is for you!
Wendy Wiseman – founder of the HealthierHappierHumans.com community, author/host of the Taming Your Tension toolbox, podcast and newsletter and creator of the W3 WISE Women Mastermind joined me to talk ab out how to stop stressing and start enjoying life more!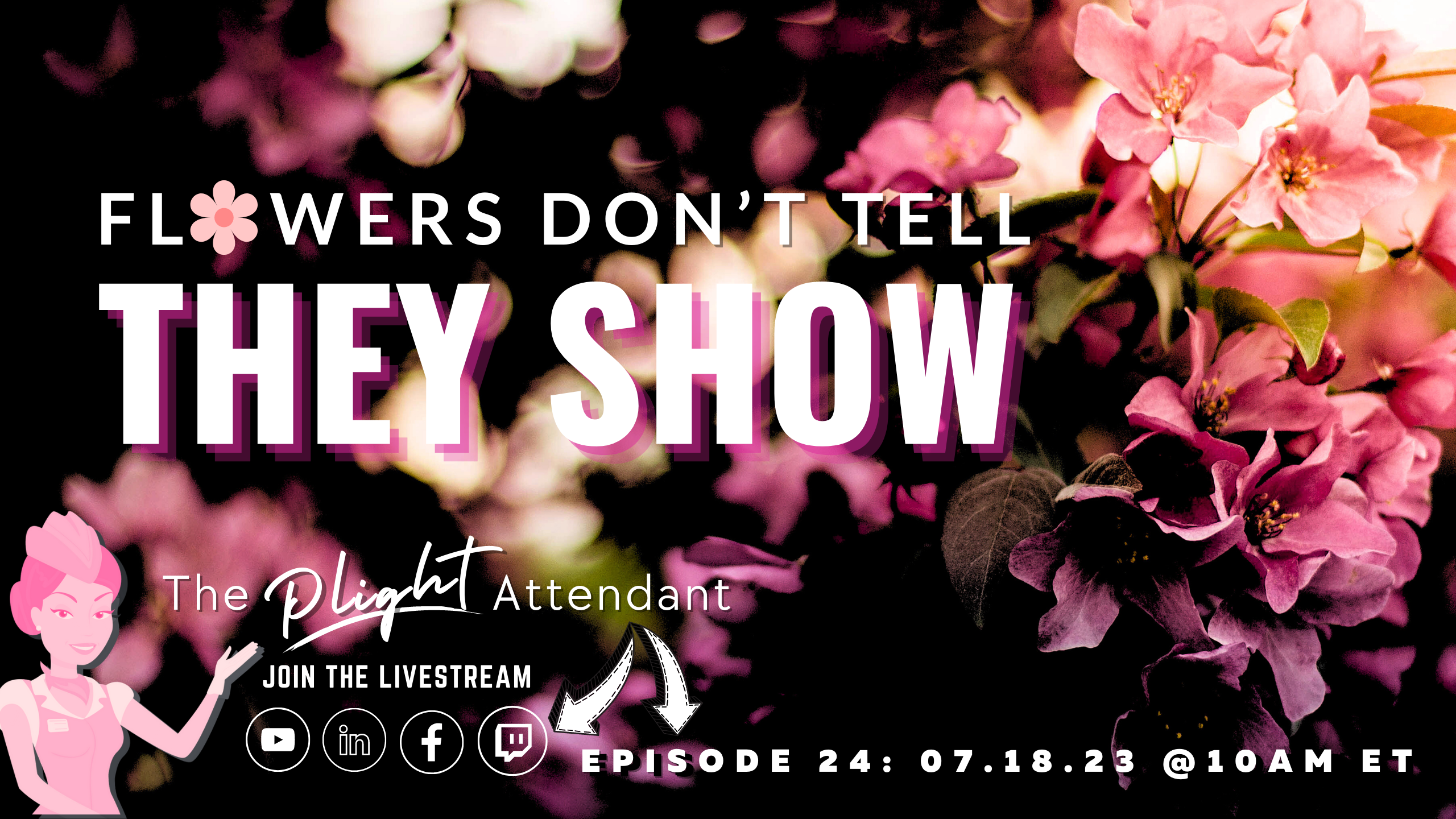 Leslie Flowers is an interview you NEED to watch!
She's flown soldiers into and out of war zones, been in a band, published 9 (soon to be 10) books, done deep research into the human mind and a whole helluva lot more!
This very quickly became one of my all-time favorite interviews – I think it will be one of yours, too!
Watch The Episode 24 Replay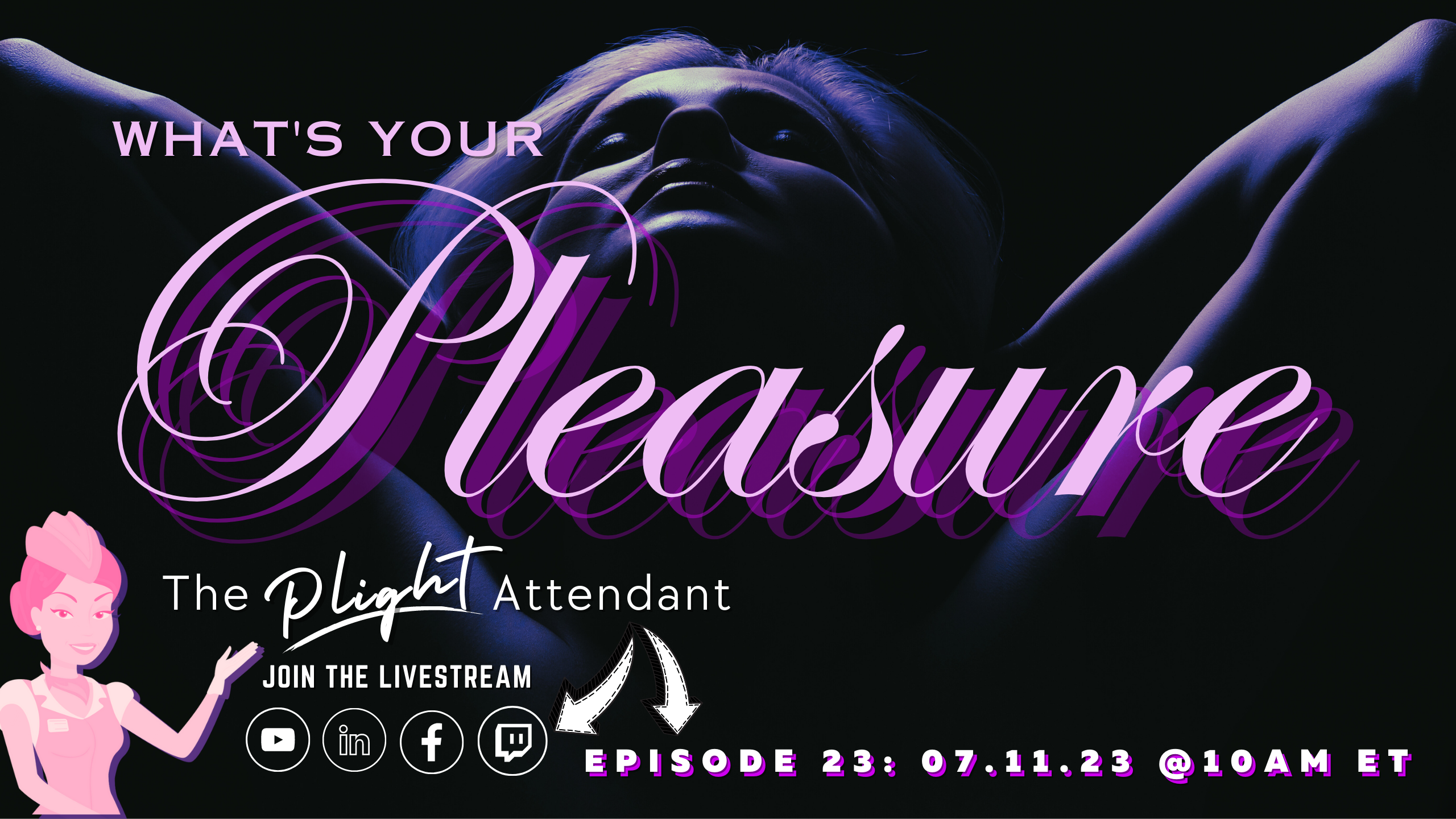 Women are literally BUILT for pleasure!
That is a superpower!
And that is what I talked with relationship researcher and sex & intimacy expert Tazima Parris about on Episode 23 of The Plight Attendant show!
Tazima has studied sex, relationships, emotional intelligence, and human behavior for more than 20 years!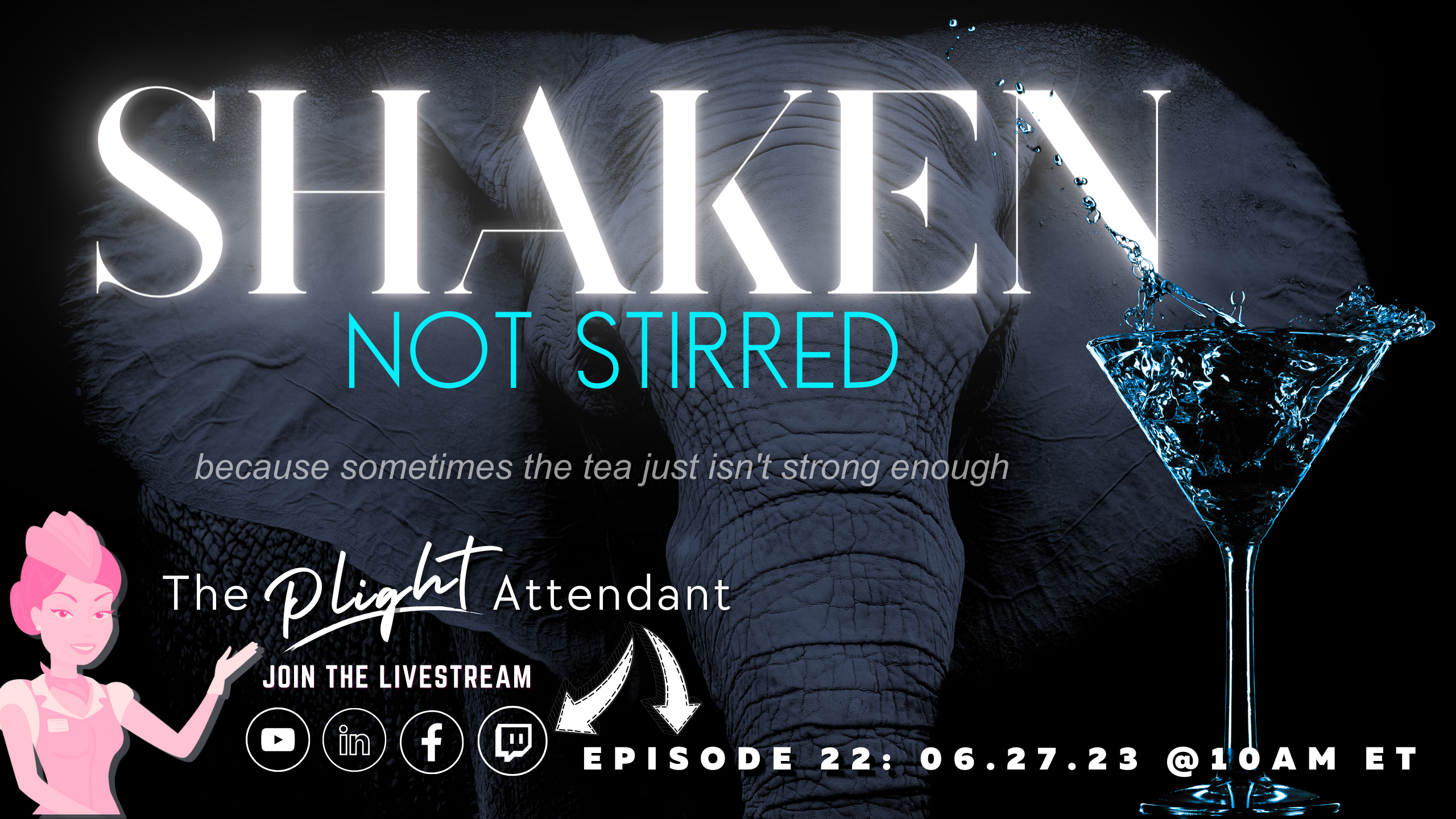 What do you do when you are DONE?
Done bottling up your pain and anguish.
Done staying silent about your experiences.
You start something.
Big.
Dommartini Salien, Sr. (Martini 🍸) is on a mission, and it was incredible to have him join me as my special guest host for Episode 22 of The Plight Attendant show!
Watch The Episode 22 Replay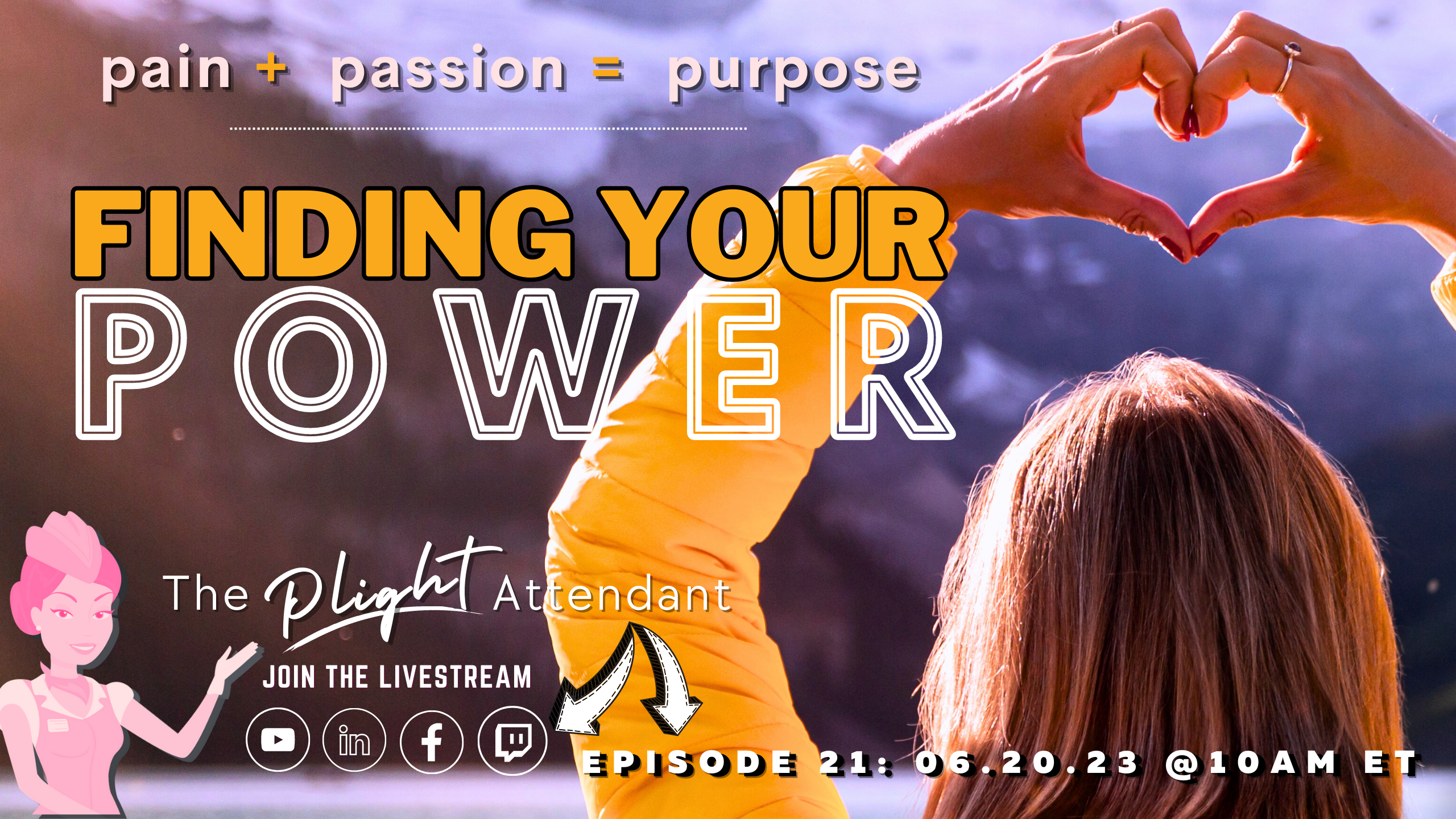 Jen Carpenter has an important story to tell – hers!

And you are part of it.

She joined me in the studio as my special guest host for Episode 21 of The Plight Attendant show to share her personal story, what she's learned and how she helps others through her work and beyond.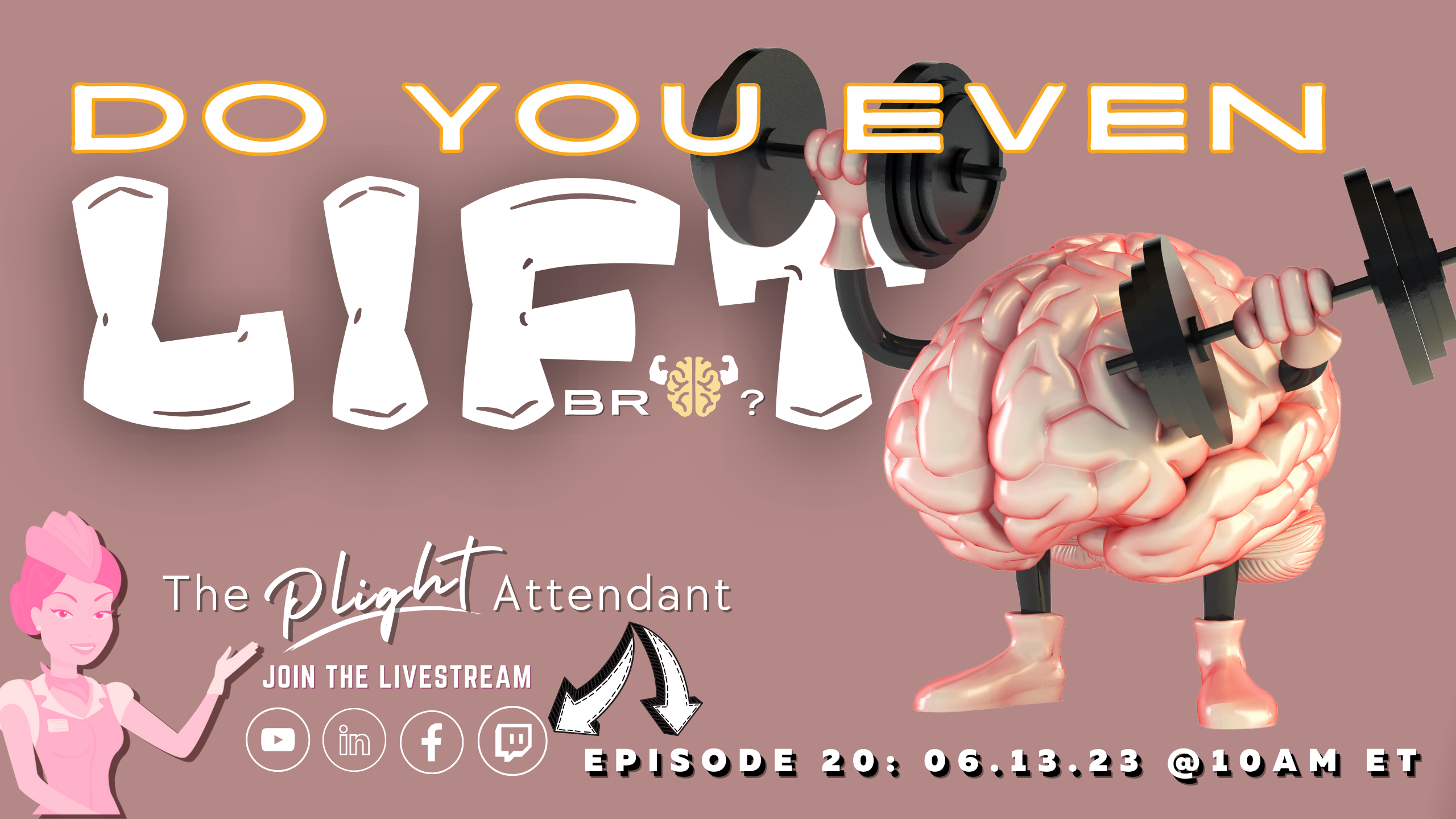 Can you remain calm, judgment-free and optimistic when things don't go your way?
Would you like to? Who wouldn't!?!
I use RAM Thinking (Results = Action + Mindset) and positive habit formation techniques to show you how to turn adversity into your biggest advantage to stay in control and NEVER again put yourself at the mercy of an event, situation or person getting the better of you in a moment you'll never get back.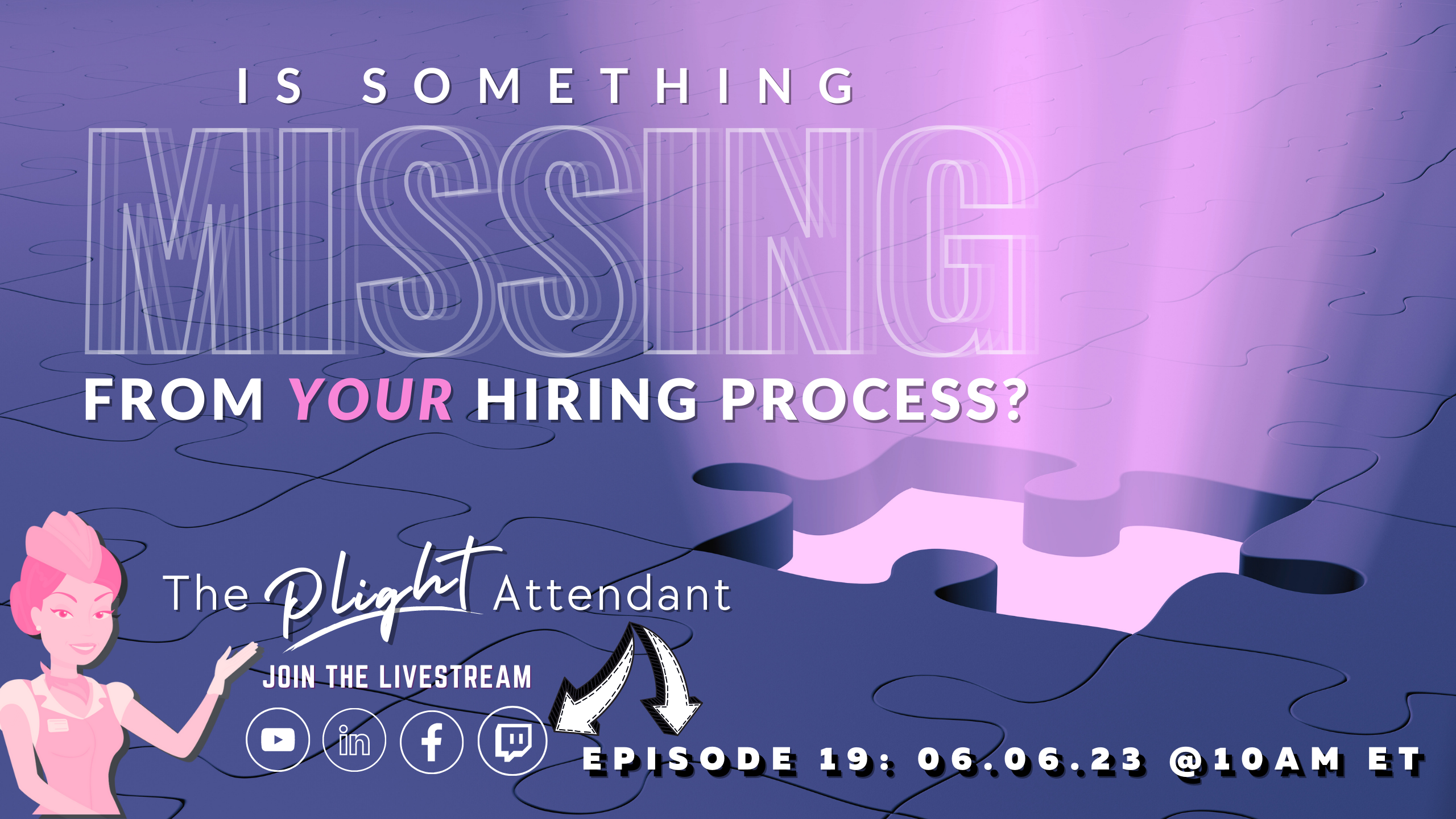 Are background screenings the missing piece your business needs help make the best informed hiring decisions?
Oh yes it is!!
Melissa Houston, Managing Director of Expert Background Solutions joined me to talk about background checks, employee rights, liabilities, misconceptions, interesting state laws and a bevvy of other things I bet you didn't know about background screenings!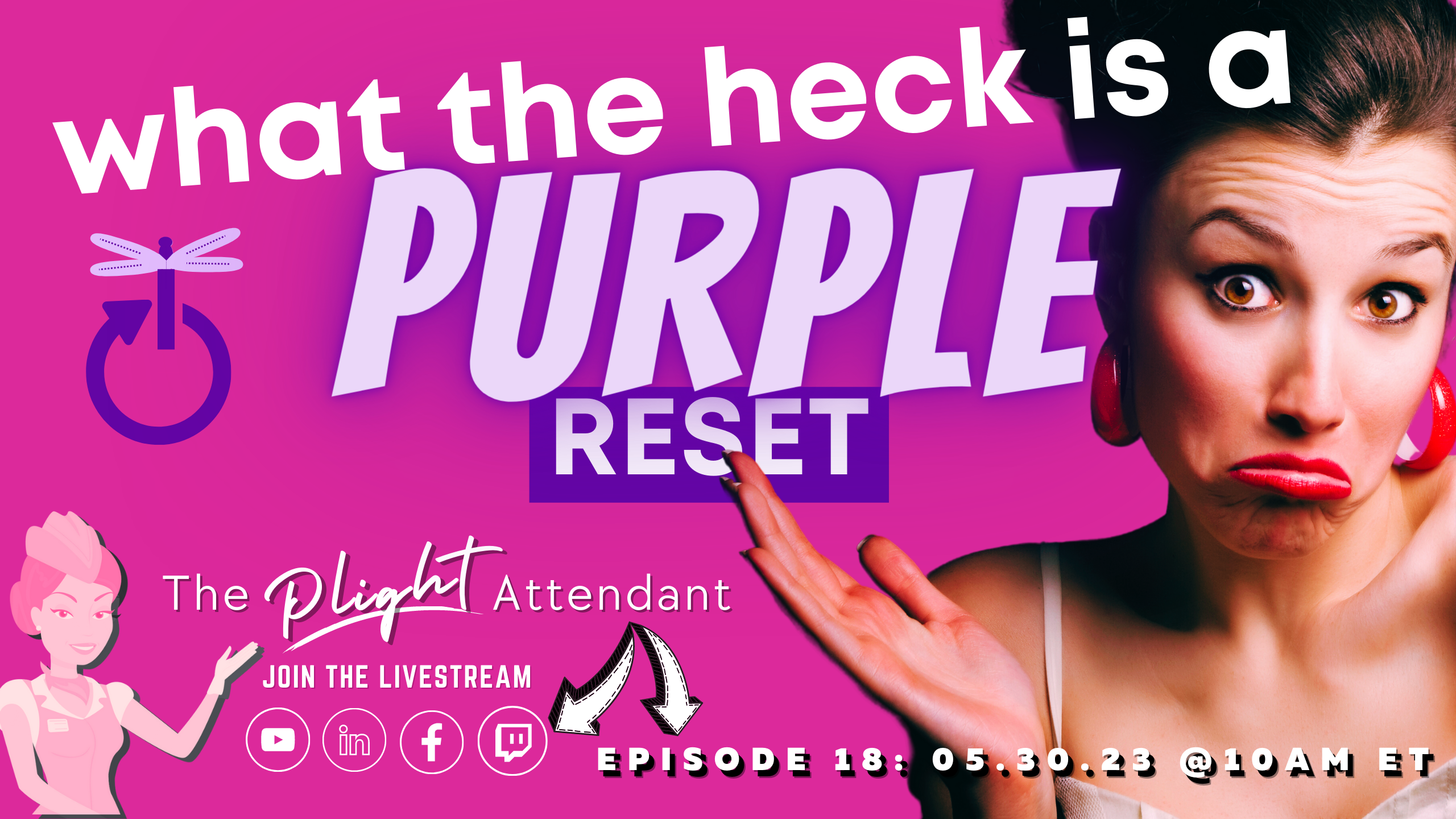 THE Empress of Journaling herself – SAM KAIN (Purple Reset) was HERE!!
We talked about hand journaling, her journal and notebook system (Purple Reset), what the practice can add to your life, house-hunting, handling life and we got some general ear candy listening to her lovely British accent (in stark contrast to my US Southern one! LOL)
Sam described journaling better than I'd ever heard anyone do it before!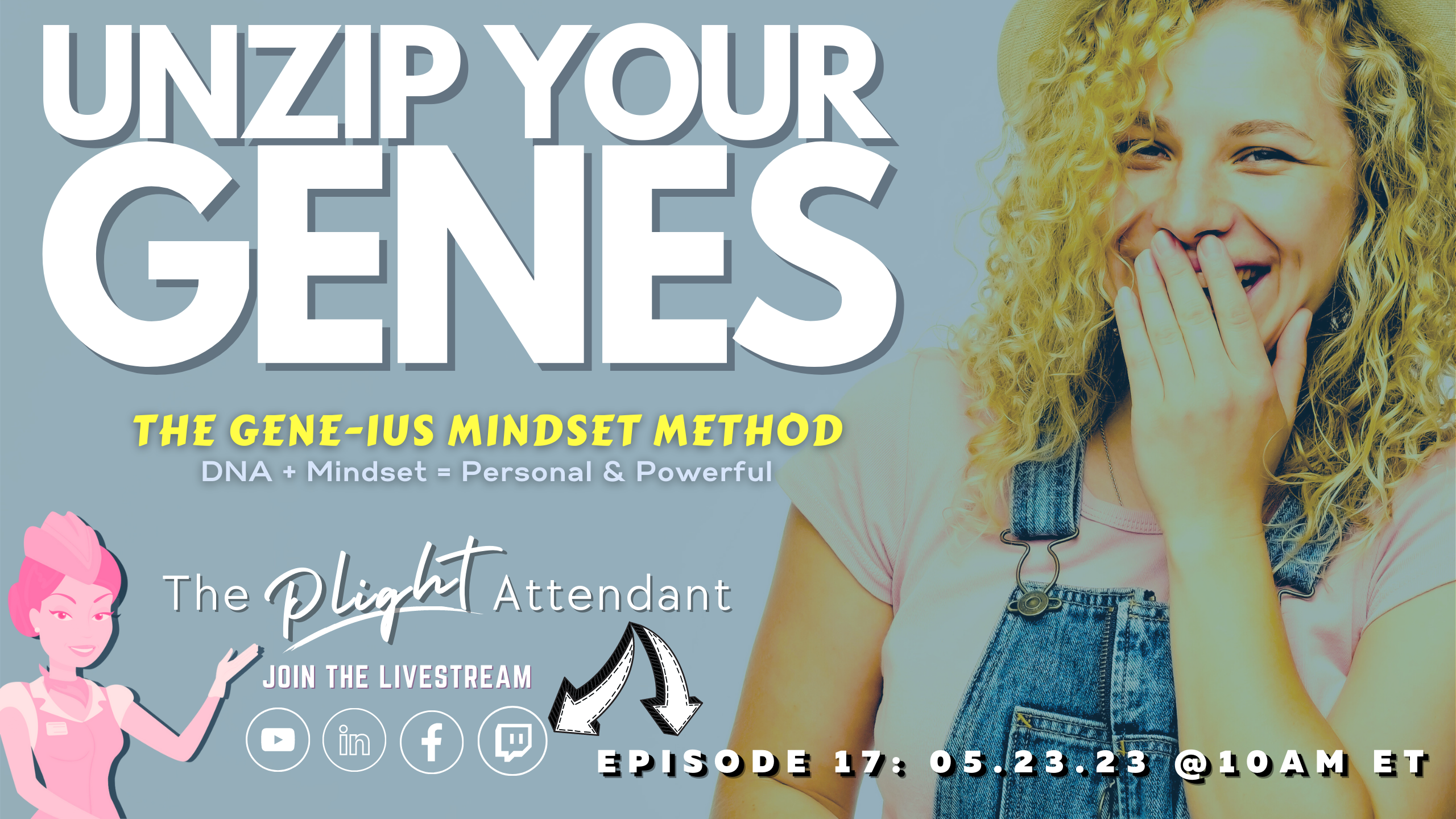 Join me in welcoming Certified Life and Nutrition Coach and Women's Wellness Specialist Sandra J Wilson to Episode 17 of The Plight Attendant show!
Sandra will share the exciting work she's doing combining DNA testing with mindfulness practice to help empower women like never before.
It's called The Gene-ius Mindset Method and I am excited to learn all about it and to have YOU share it with me!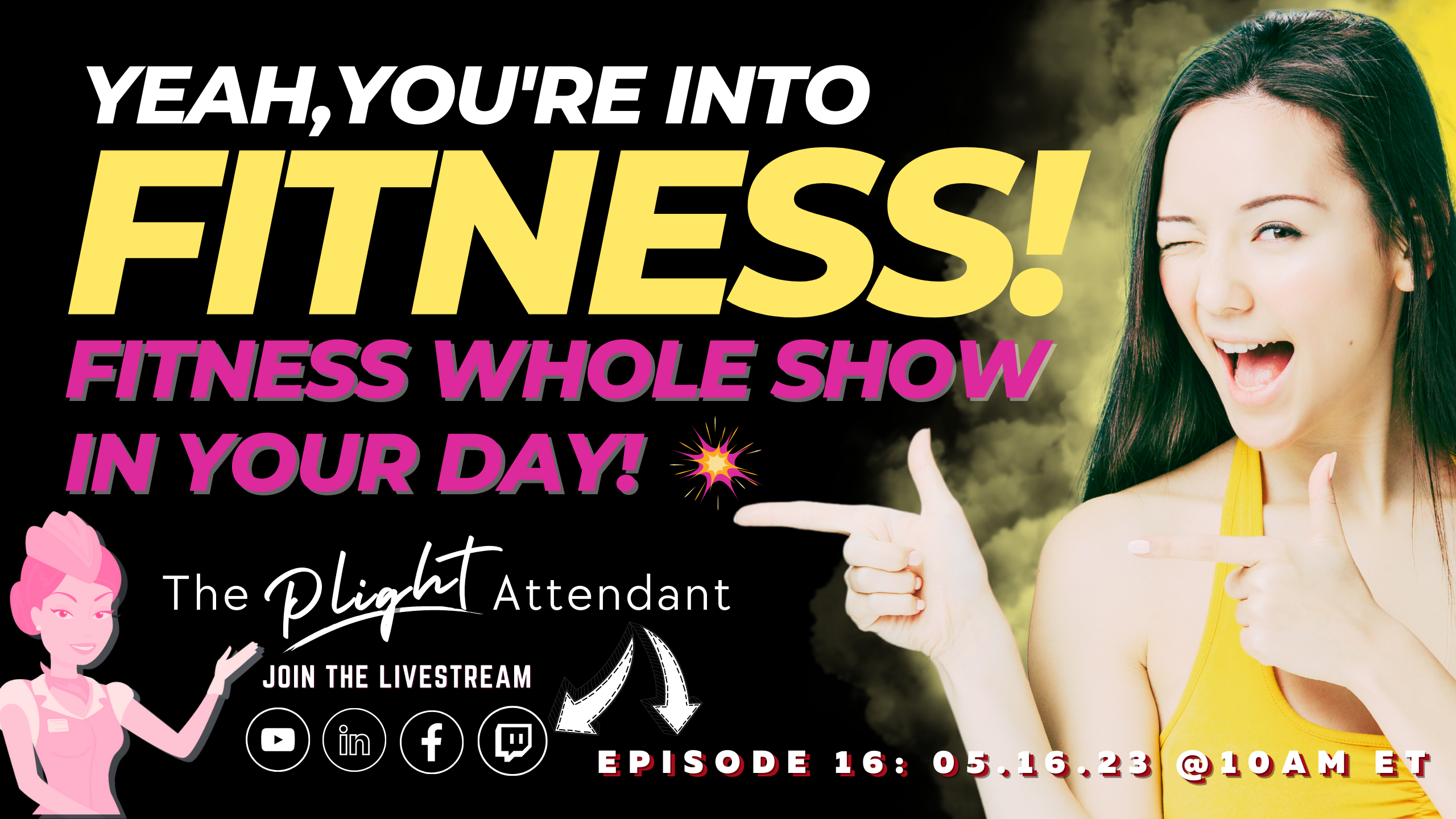 Habits and Self-Confidence Coach Chastity Alexander wants to make sure you succeed – one day at a time, just like she's doing it. And she IS doing it!
She is walking the walk! And she joined me for a raucous chat about getting through technical difficulties, Coca Cola and helping through their weight loss and health journeys.
Everyone has struggles. No one has to go through them alone.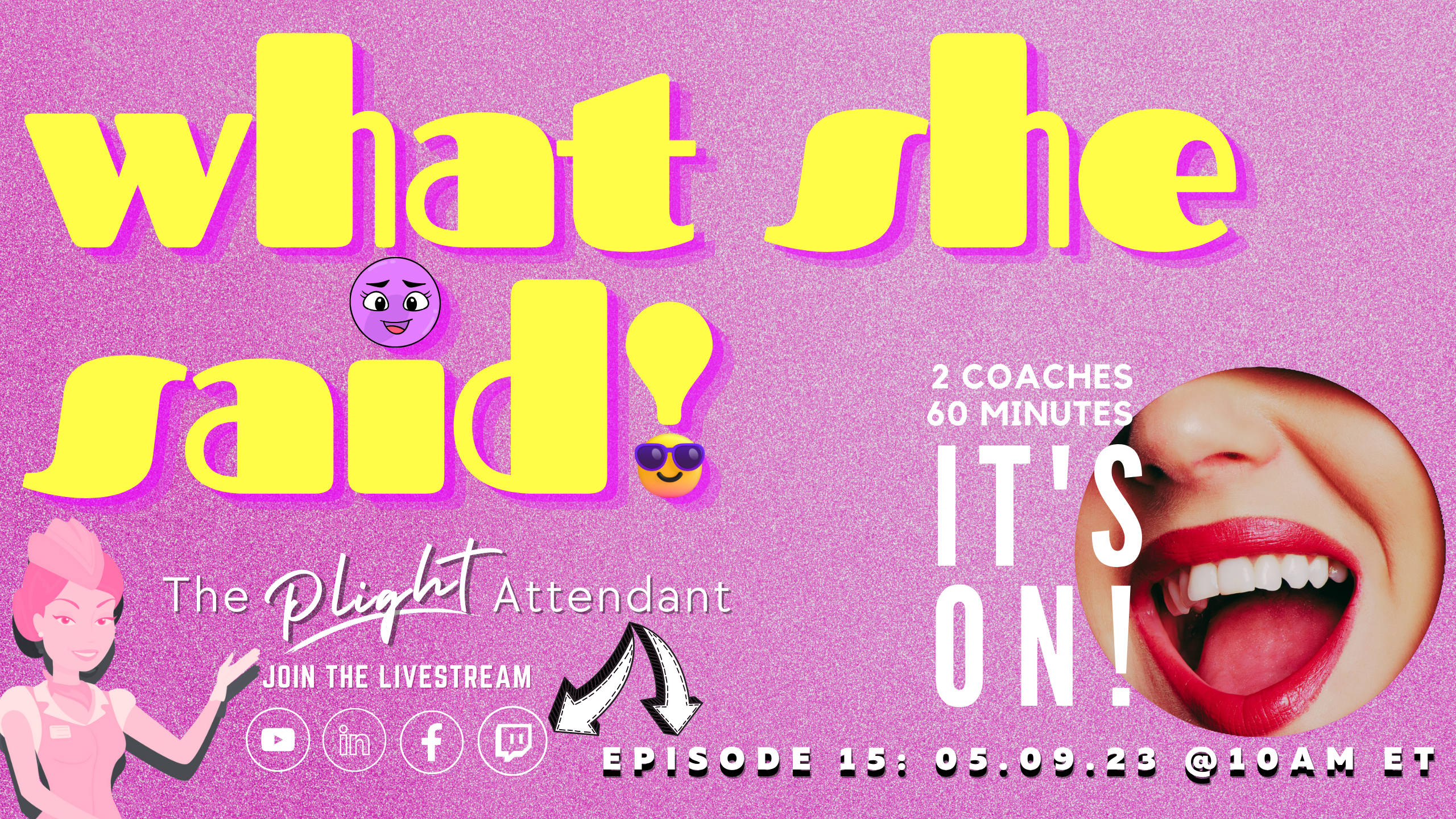 GET EXCITED!
Life Coach Jenny Maxwell is BACK to The Plight Attendant show!
In case you missed her first appearance – you can catch the replay of Episode 9 right here.
We are talking about the infinite ways we can all say yes to ourselves through positive habit formation.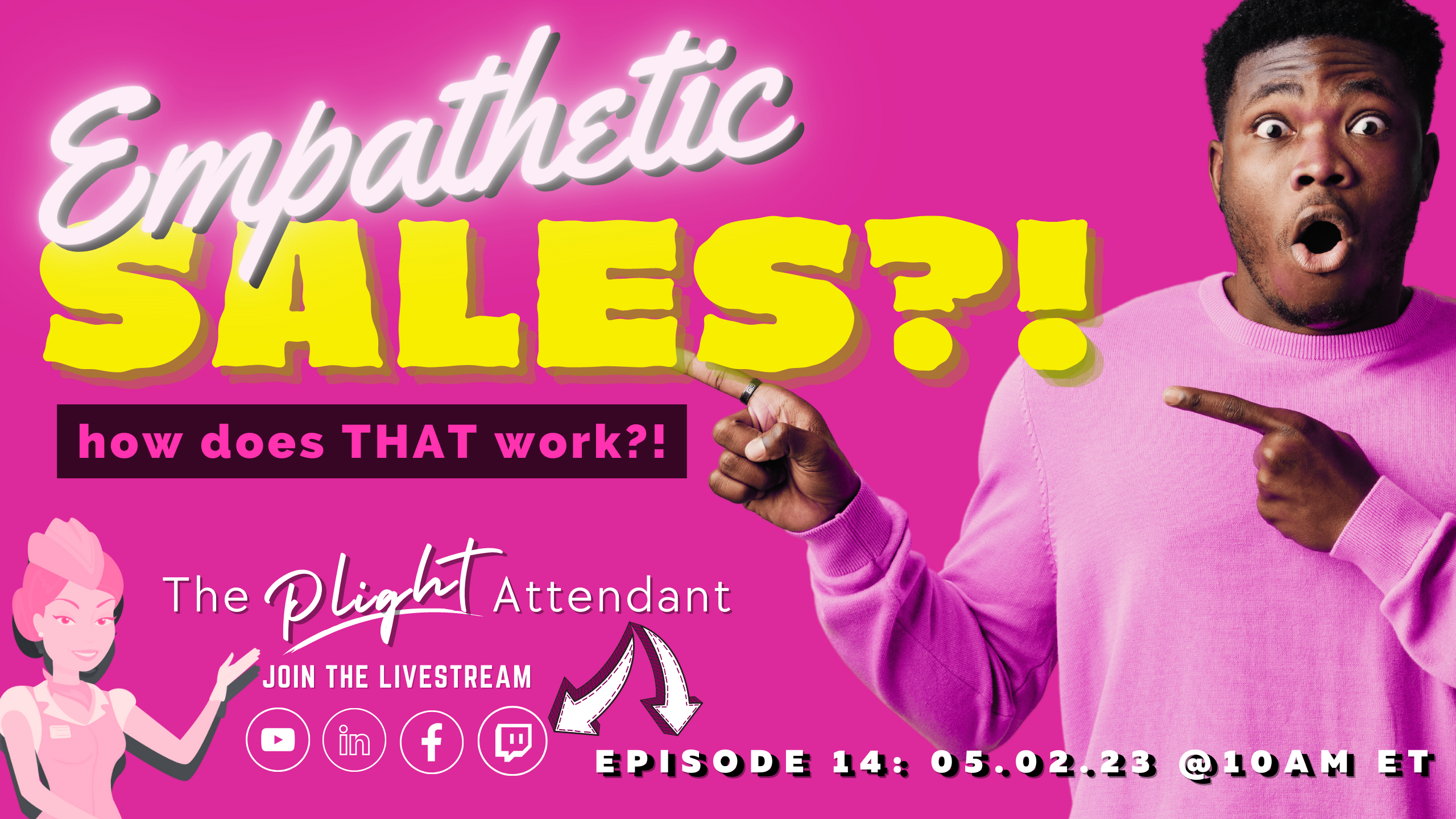 Sales and Business Coach Darleen Priday joins me May 2, when the topic du jour is all about Empathetic Sales.
She draws upon 3 decades of expertise in sales and business development to help her clients transform their businesses using her proven  empathetic and relational sales techniques. 
Join the show LIVE to learn how YOU can do it, too!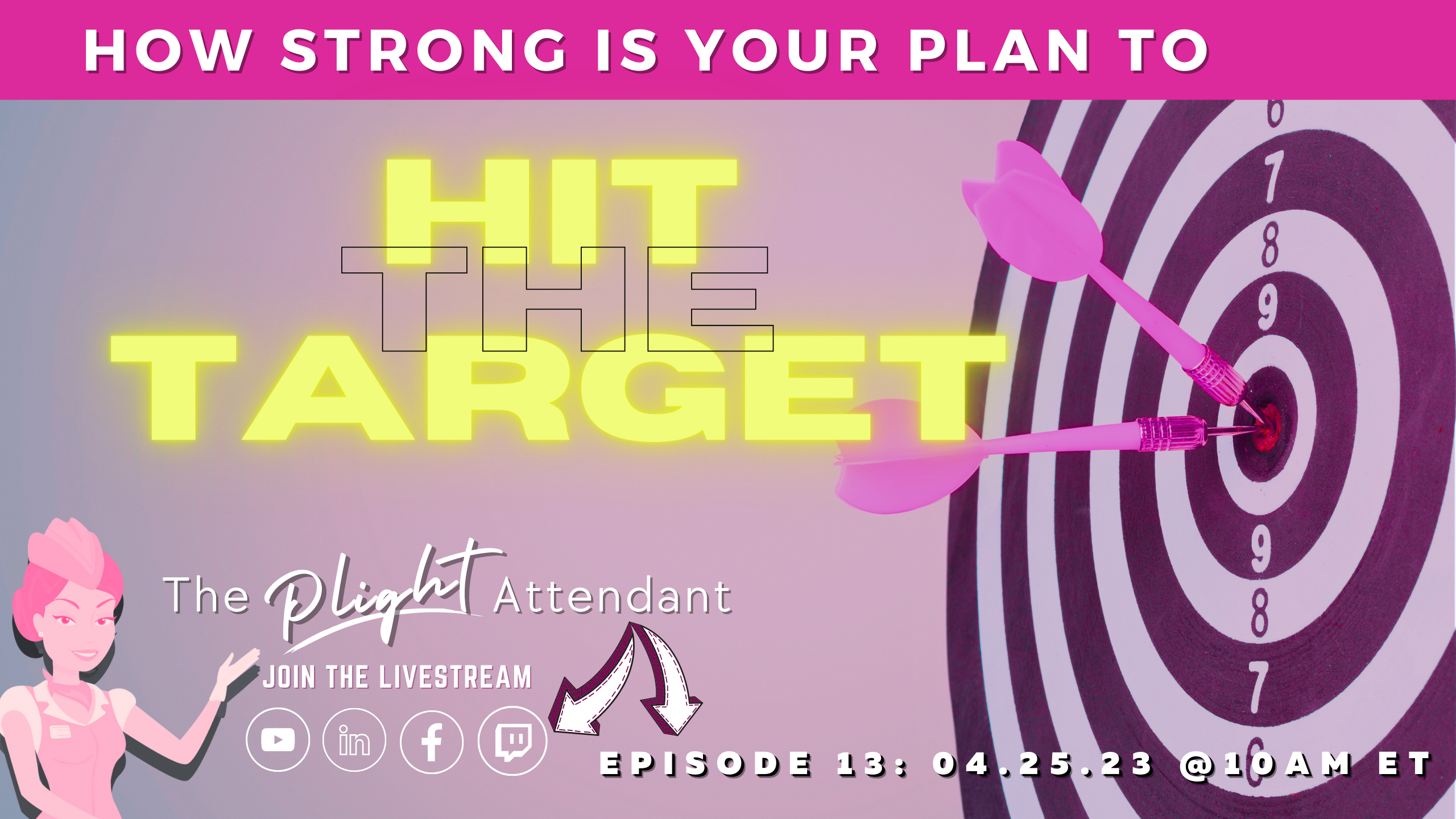 Well, you know how it is with LIVE shows – sometimes things happen!
For Episode 7 it was the sun storm that ate our sound.
For episode 13 (13! 😲) guest host and content expert Brian Smart just couldn't get in the studio!
Two mystery guests joined in his place and IT WAS A PARTY!!!!!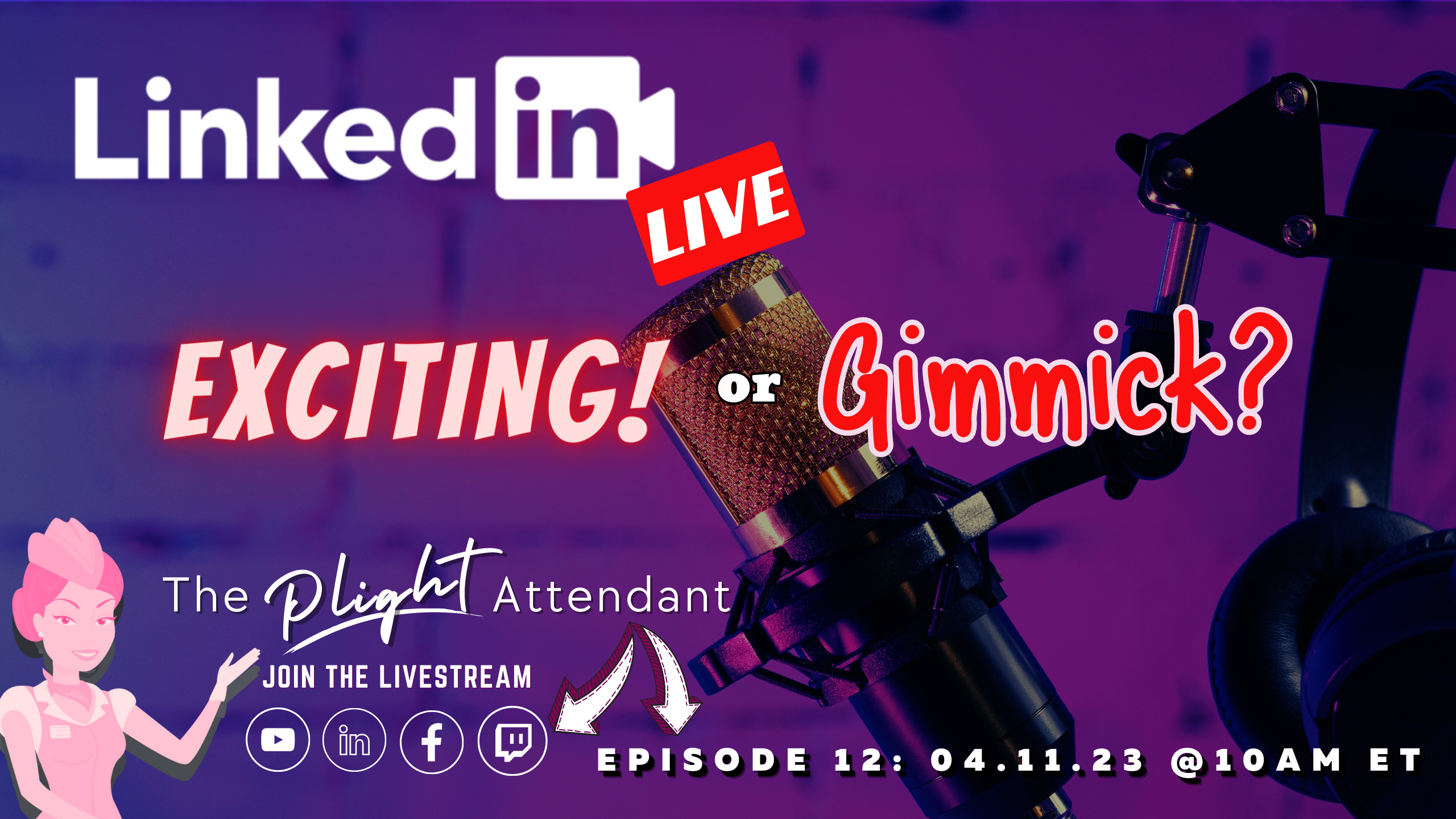 Livestreamer extraordinaire Trevor Van Woerden (who has 3 different LIVE shows) joined me to talk about our experiences with LinkedIn Live and the question on everyone's mind – whether WE think it's great or gimmicky.
Our verdict?
LIVESTREAMING IS GREAT!
It was such a great show!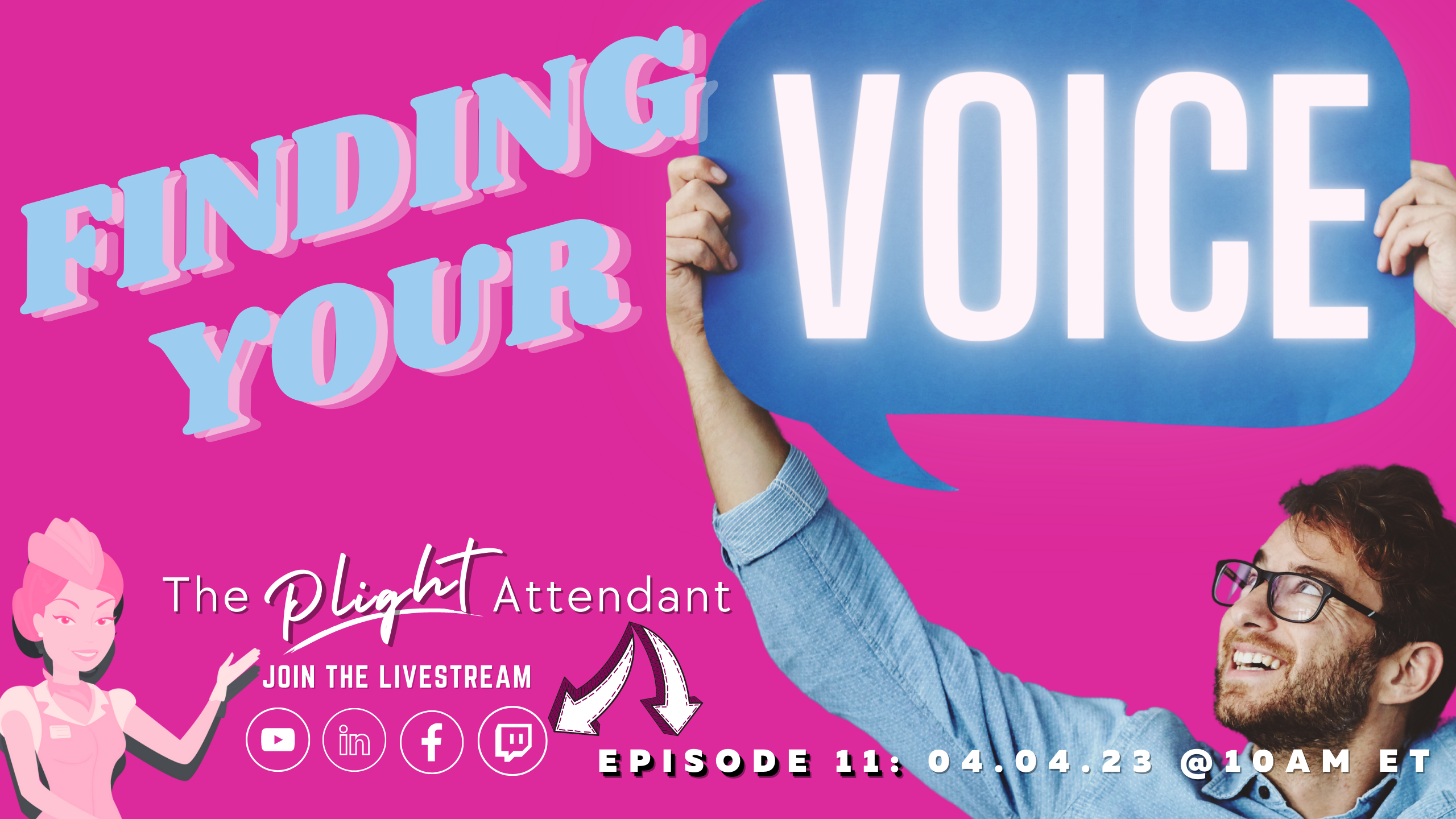 Voice Coach Mark Cox came back for Episode 11 because the Sun Storm (REAL THING!) destroyed the audio when he joined me for Episode 7 of The Plight Attendant show!
It was incredibly exciting talking to him about finding, developing and finding the SUPERPOWER in each of us:

Our voice!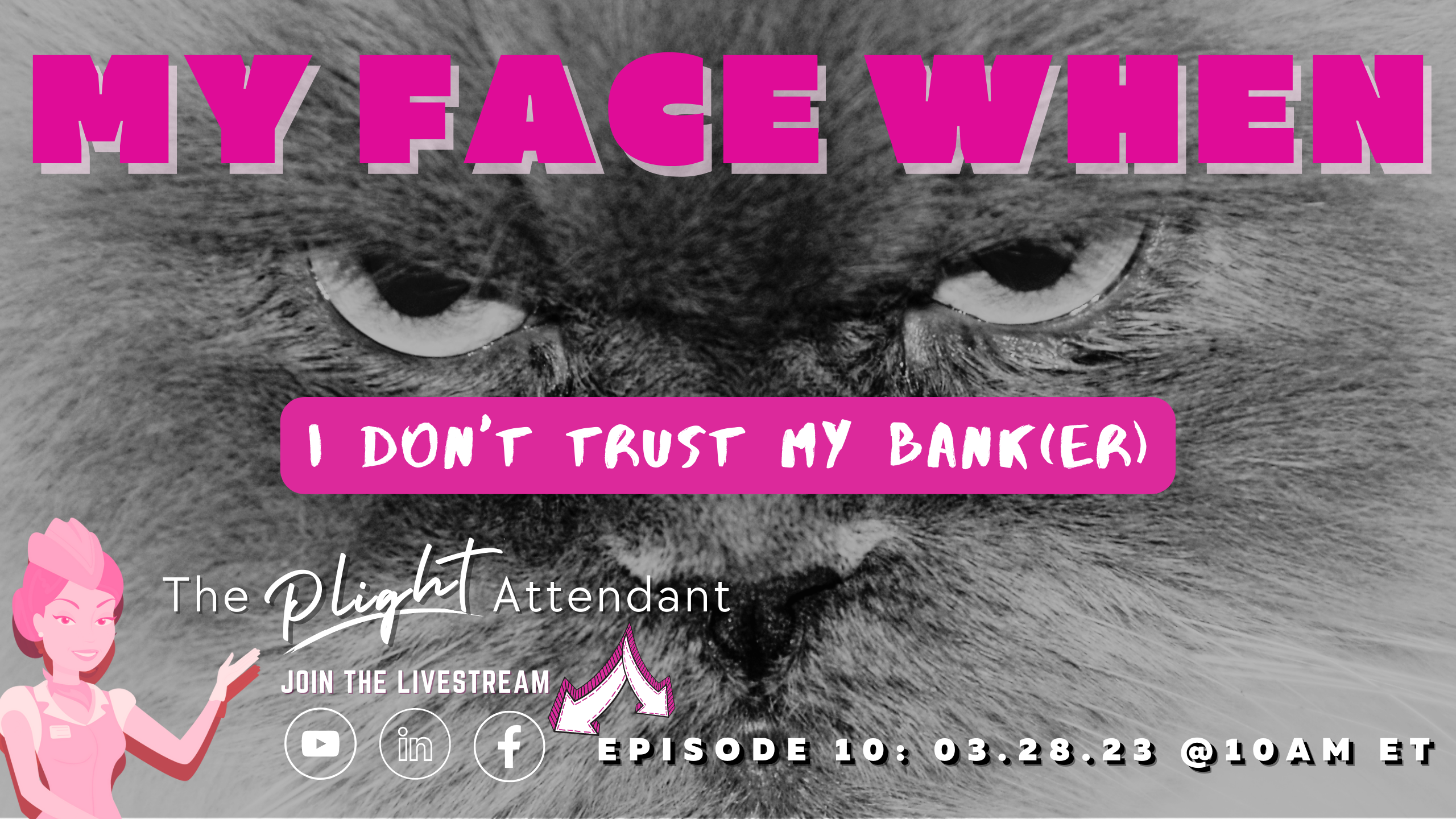 The widespread panic, speculation and misinformation following after the Silicon Valley and Signature bank failures is causing a lot of sleepless nights.
When banks collapse, it doesn't automatically mean bad news for you!
We unpacked it all with Financial Advisor Paul Deitch on Episode 10 of The Plight Attendant show!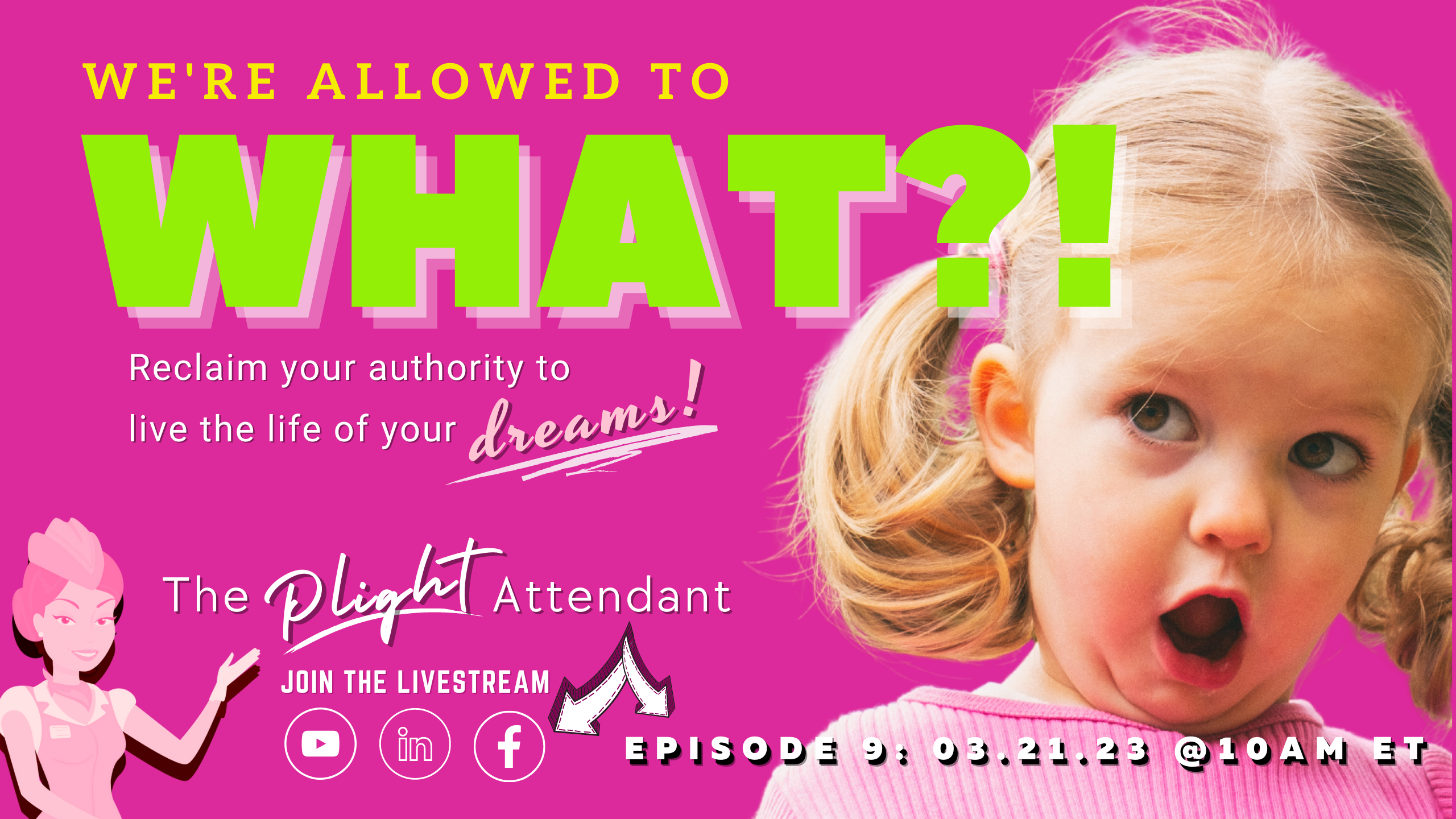 Episode 9 of The Plight Attendant Show is all about reclaiming your personal power to live the life of your dreams!

Oh yes it's possible AND you're allowed!
::: and it's not nearly as hard as you may think! :::
Joining me in the studio is Personal Development Coach Jenny Maxwell, who shares how SHE DID IT for herself and how YOU CAN TOO!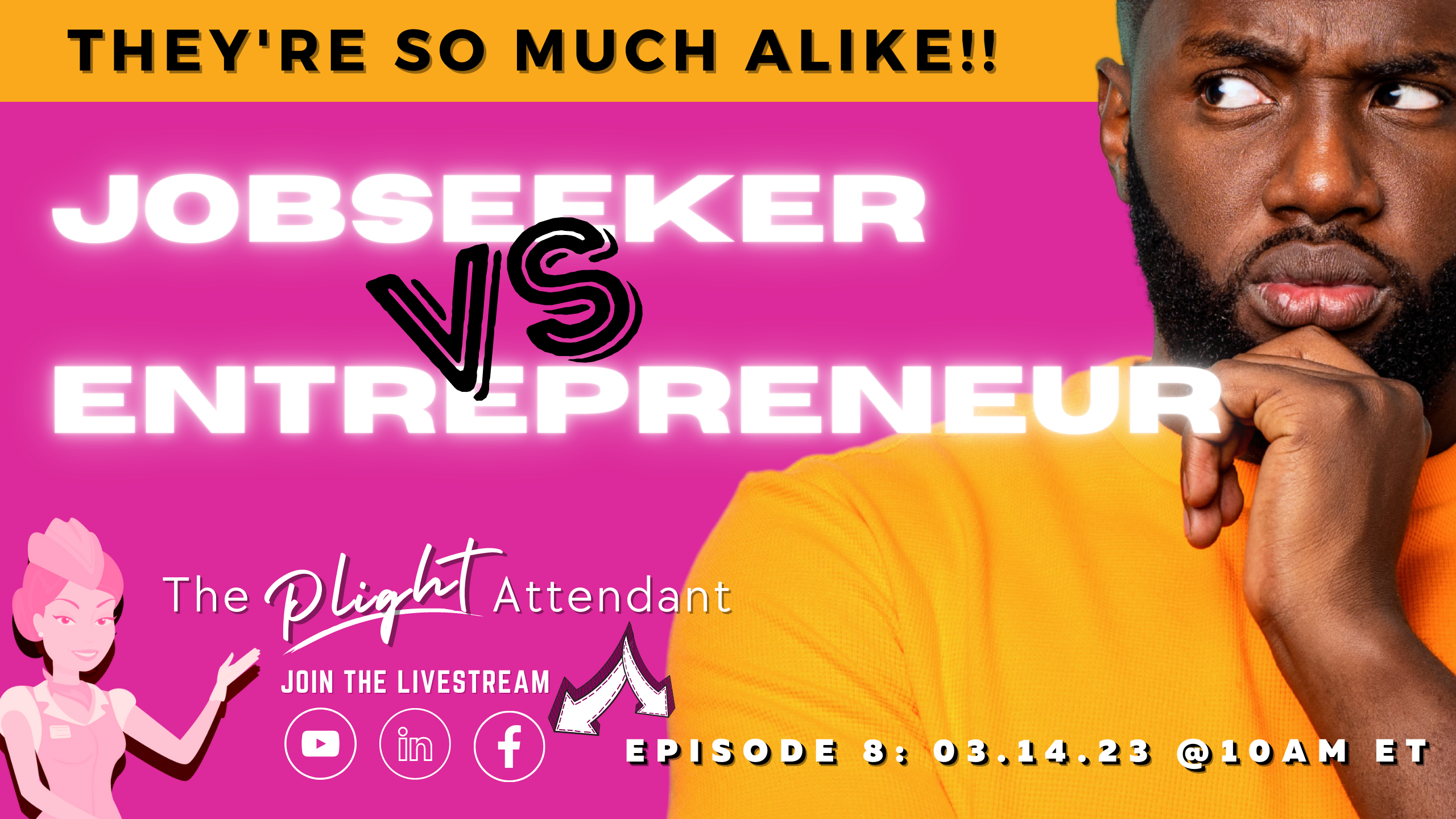 What do today's jobseekers and entrepreneurs have in common?
A LOT more than you might think!
In fact, the day-to-day for each often looks identical!
Entrepreneur, Coach, Cultivator of Dreams, Motivator of Human Capital and LinkedIn's CCC (Coffee Chat Chief) – Melissa Houston helped me break it all down on Episode 8 of The Plight Attendant show!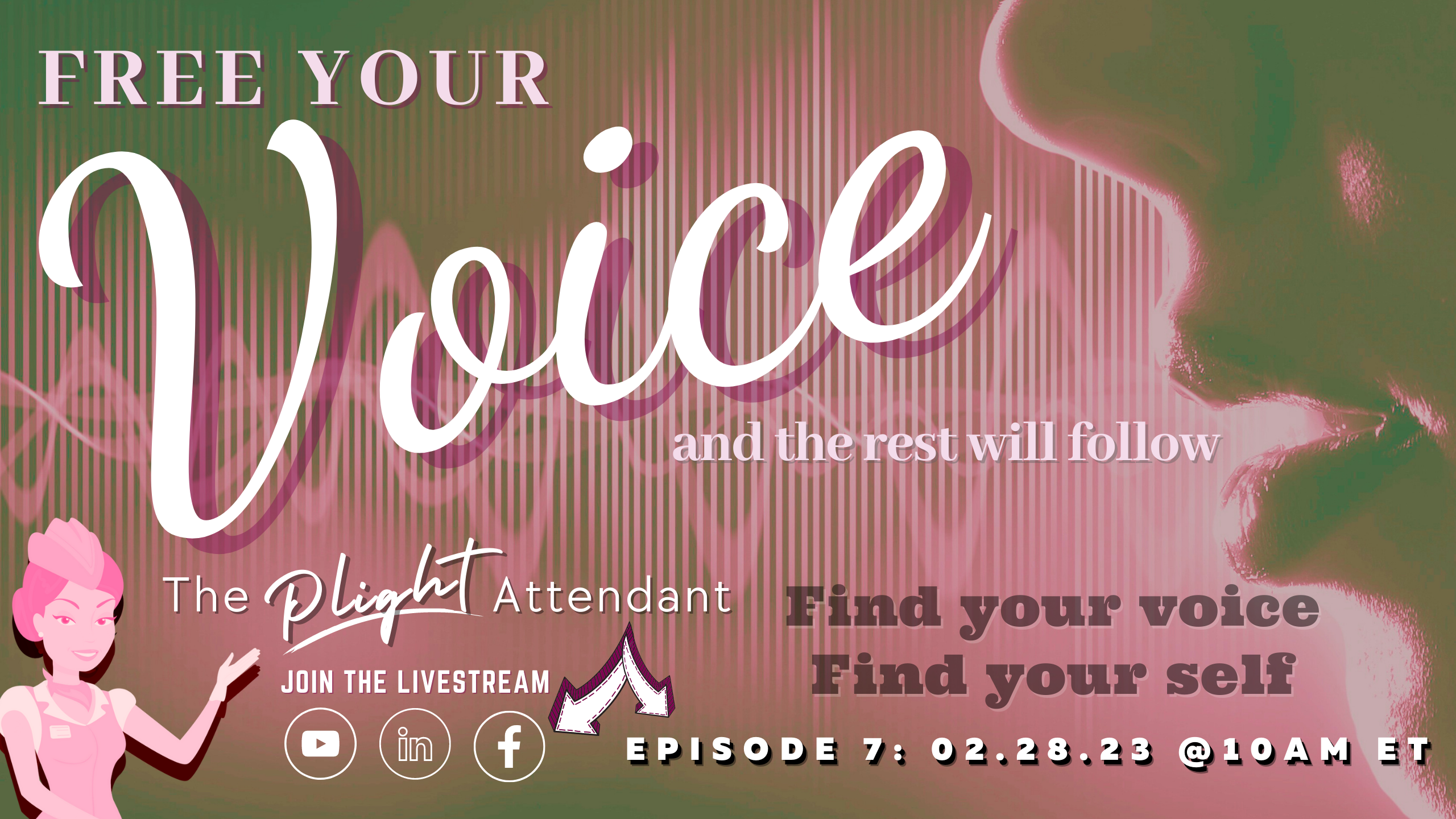 Audio issues from the solar storm presented too many challenges, but also provided a great opportunity to book a Part II of this discussion!
STAY TUNED!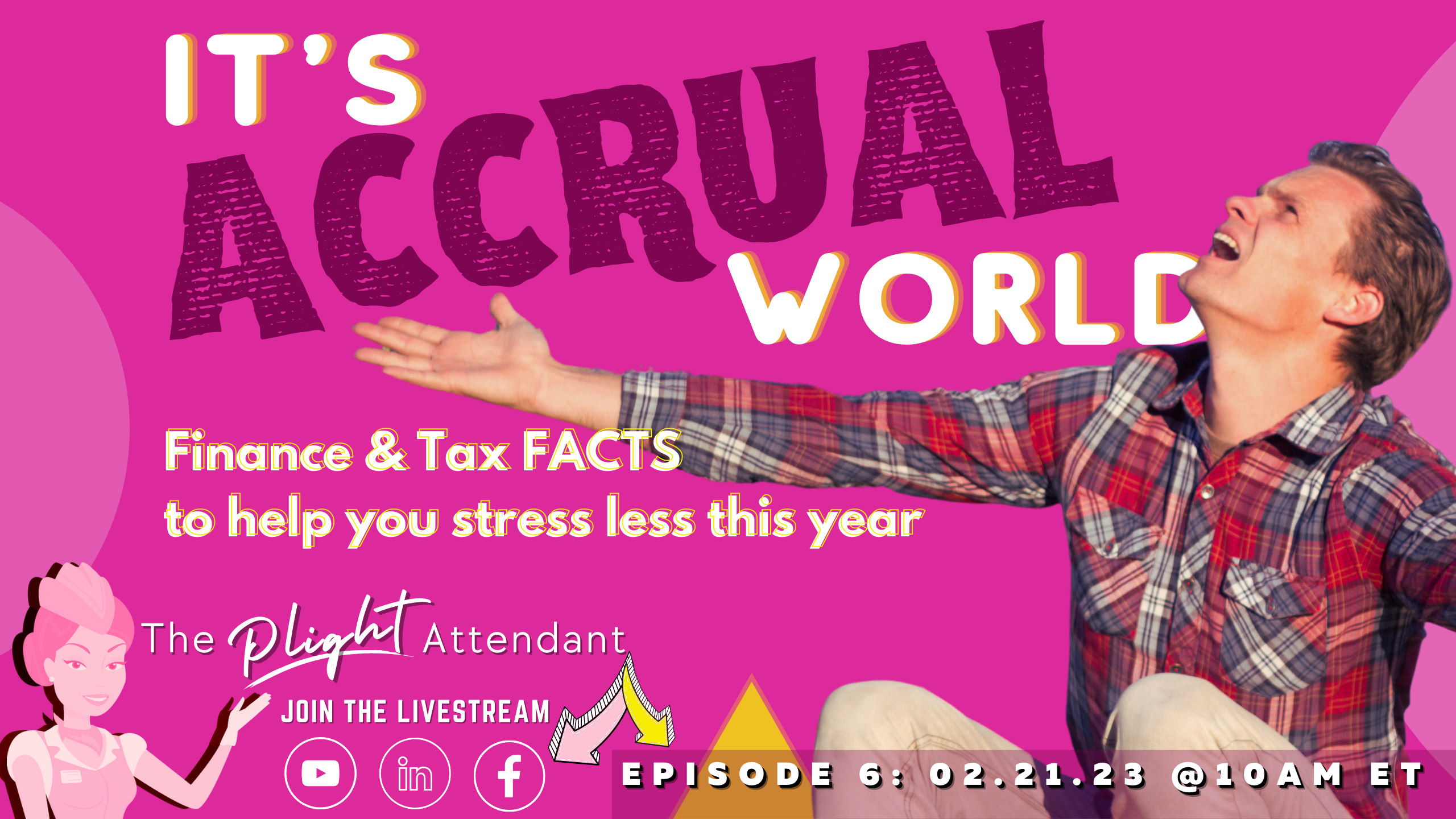 Tax Facts and Money Matters!
💰Retirement plans
💰Life insurance
💰Mortgage protection
💰Budgets
💰Taxes
💰More!
Guest host and Financial Advisor Paul Deitch stopped by to help us navigate the choppy waters of personal economics.
Paul will join for a Part II!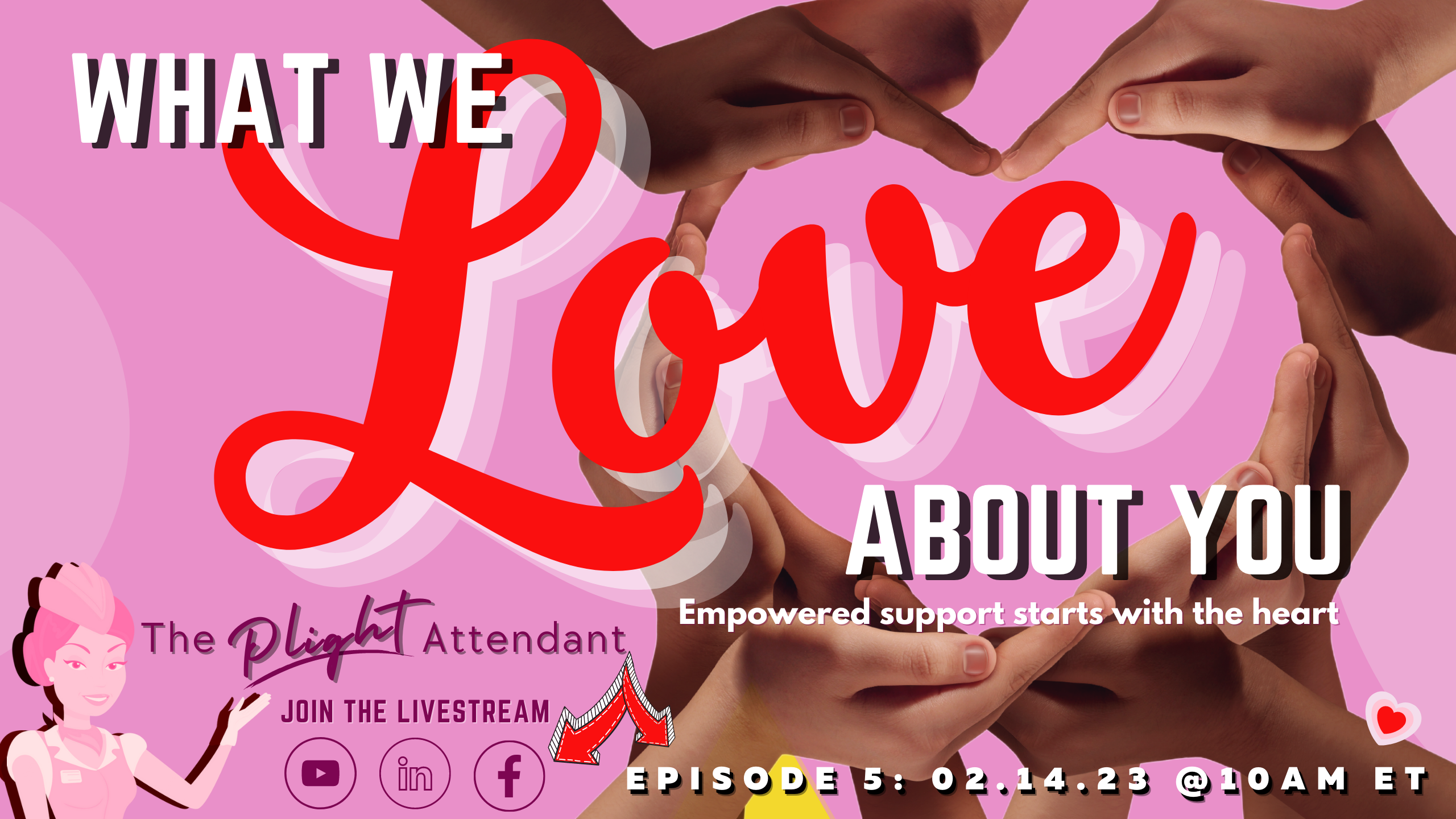 Valentine's Day is a day for love, but Episode 5 is all about being cherished!
For who YOU are!
Guest Host Carla Goldberg broke down the difference between what it means to be loved and what it means to be cherished during our conversation about Empowered Support for the transitioning teacher, transgender and inclusion communities close to her heart.
It was a powerful conversation!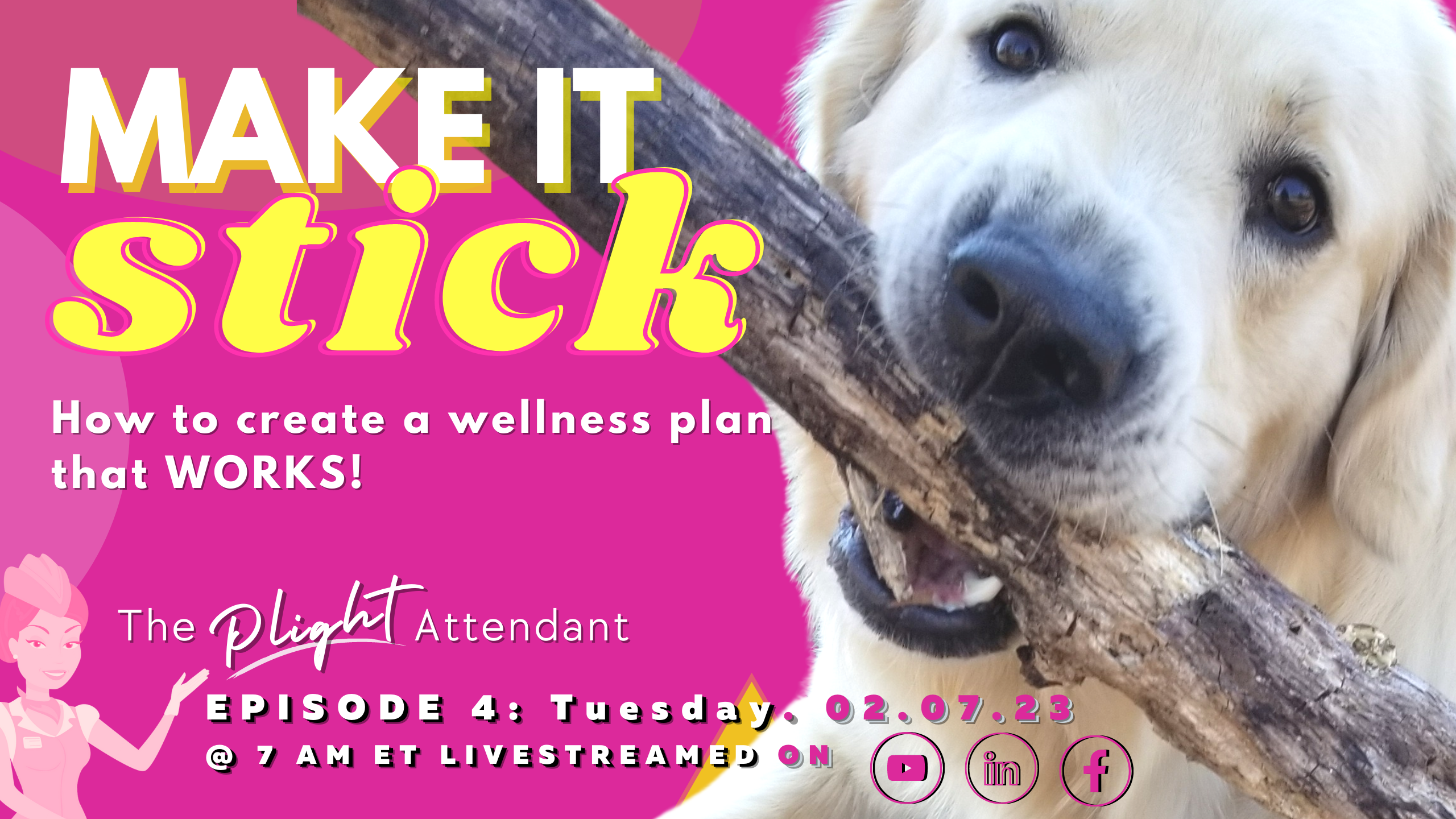 Having trouble with your wellness goals because you don't have enough:
⌚time 
🏋️variety
🏆results
🤜🤛 support
💪 confidence
You're not along! More than 65% of people quit on their goals.
We share practical tips everyone can use to be successful in Episode 4!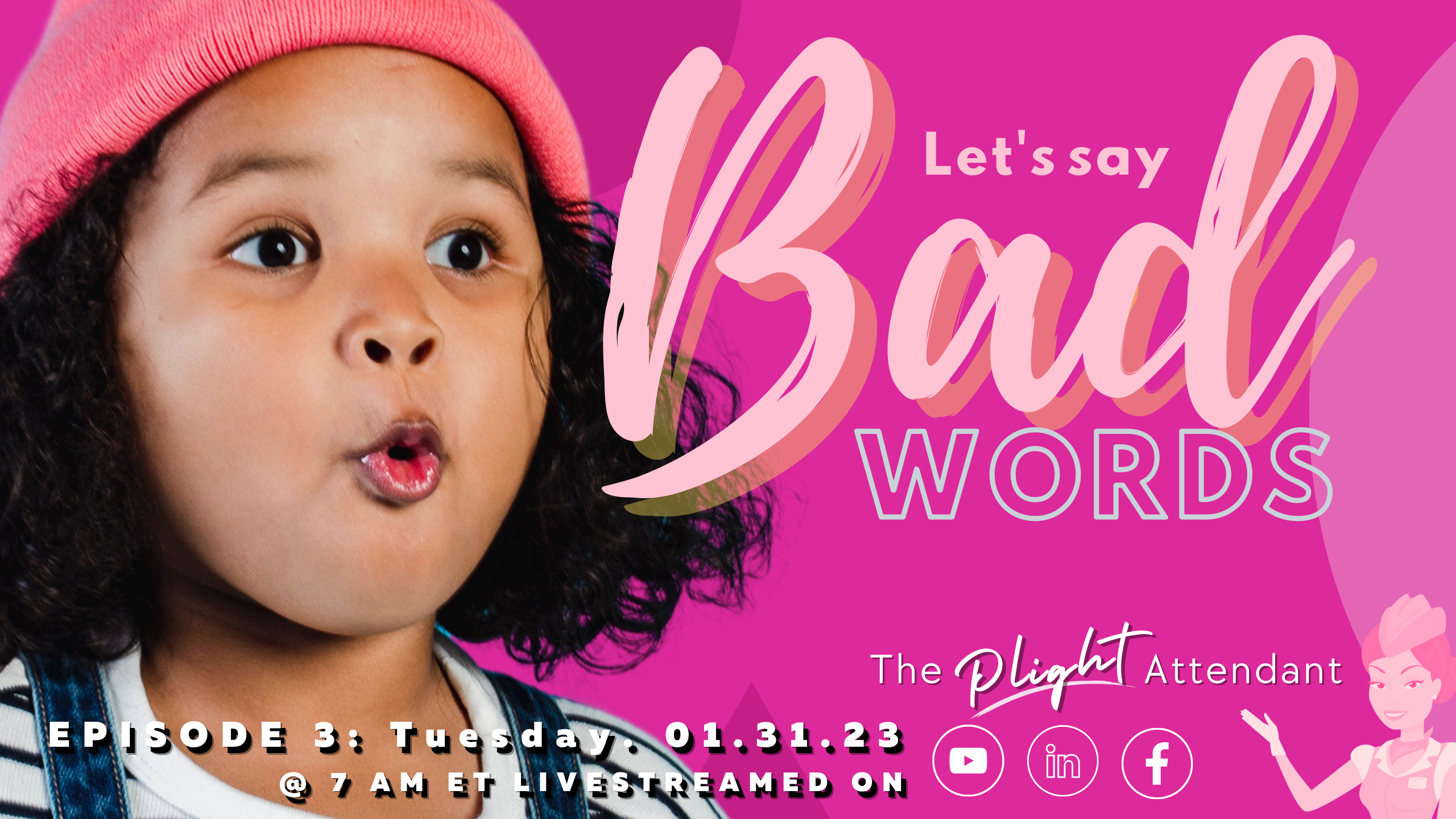 ● "Why can't I __________"
● "I'll never ________________"
● "They must think __________"
These are BAD words! 🤢
Bad phrases we tell ourselves that come from bad (limiting) beliefs we have about ourselves.
BUT IT'S NOT ALL BAD!
Because everyone CAN overcome them!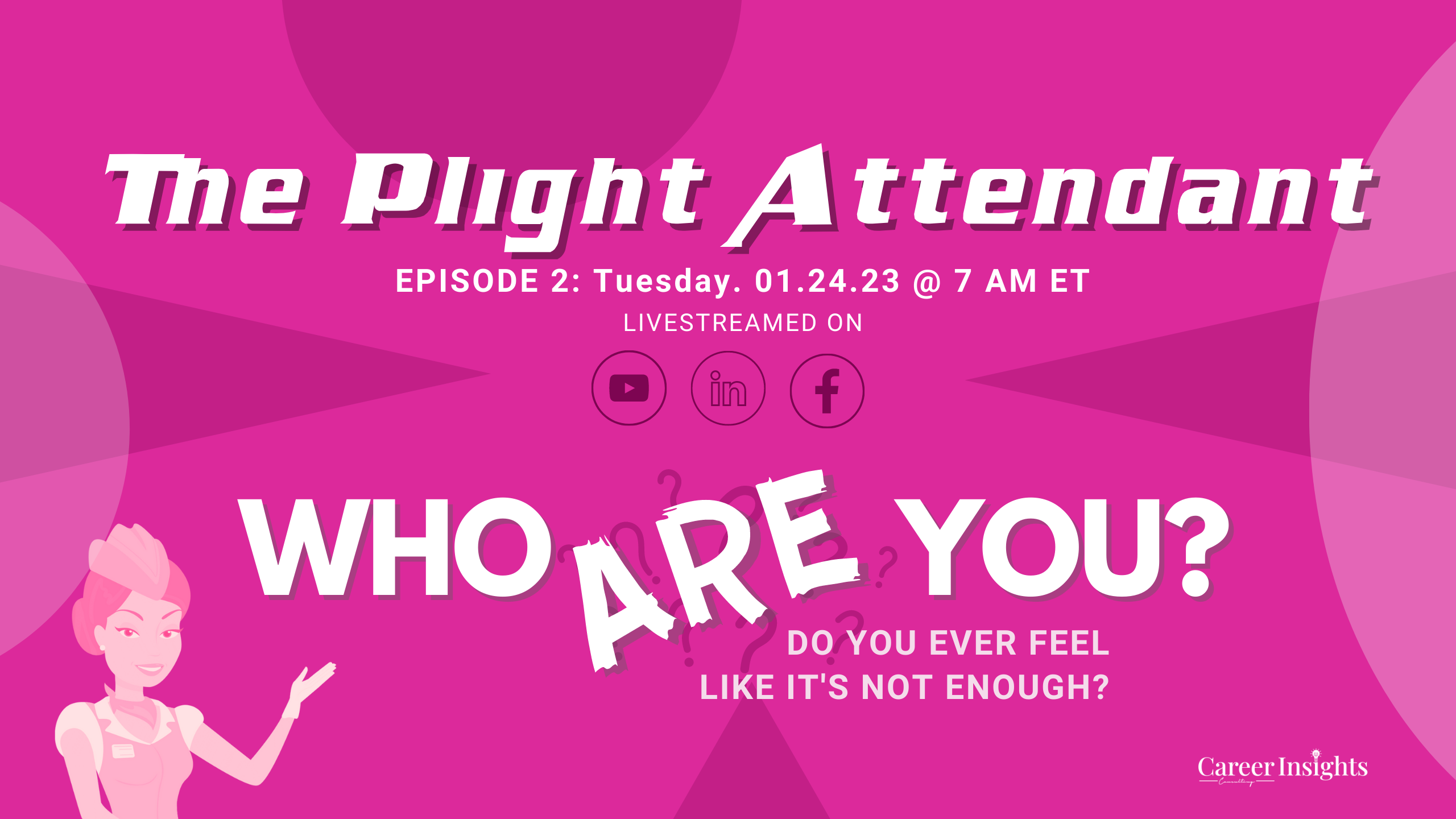 ● 54% of Americans say they feel misunderstood (Ipsos)
● 53% admit they've cried at work (BetterHelp)
● 25% say they feel unheard (OnePoll) If this is you (and it's certainly been me!) – you have company.
👆 Look back up at those stats! That's like every other person you know! 😮
Why? – Imposter syndrome, Toxic environments, Judgment, Fear – and more!
There IS a way out!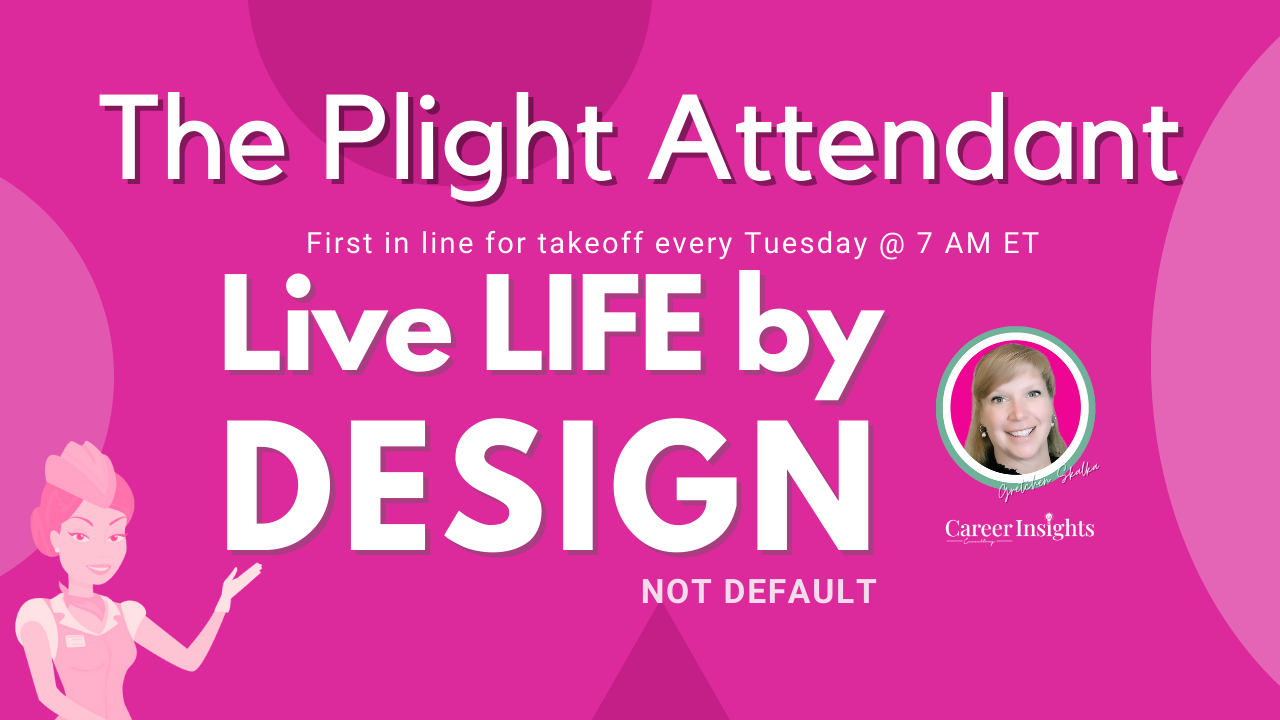 Mornings are THE most important time of the day.
● We are the most productive in the morning
● We have stronger willpower in the morning
● We have more energy, better perspective and clearer thinking in the morning
What we do in the morning sets the tone for the rest of the day and helps you live life by design (not default)!