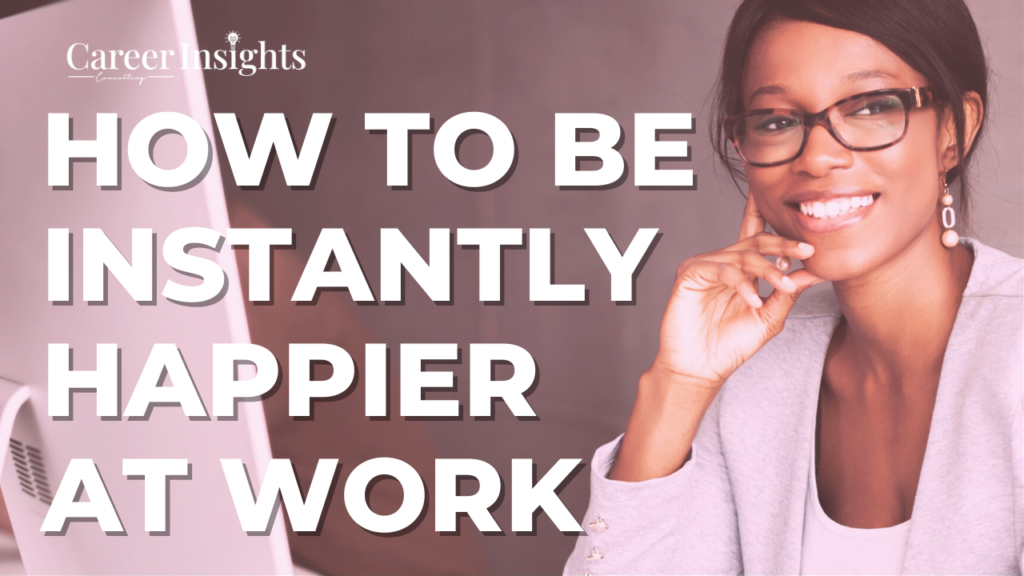 If you want to know how to be INSTANTLY HAPPIER at work, I have 3 things you must try!
Why?
Because happiness is linked to better decision-making, self-control and creativity! So where better to be happier than to be happier at work?!?
Now, before we get into this short list, it's important to point out that happiness and satisfaction are NOT the same thing.
Where happiness is an anytime-ever-and-always feeling, satisfaction is more a product of thought.
I am happy being in the company of people who challenge me at work.
I am satisfied that I have access to the right people at work.
See the difference?
How to be happier at work
Take charge
Taking charge is not the same as being IN charge.
Taking charge makes me happier at work because is helps me feel that I am in control of my professional experience. I can make decisions that will work for me and I can make the decisions of others work for me.
It's rotten feeling like you're just going through motions someone else set out for you to get to a destination you did not pick. Who wants that?!
No one I have ever met!
Look for opportunities to take charge of your opportunities! Is there a project you want to be a part of? One that you shouldn't be? Why wait for the annual review or an invitation from your boss (that may never come) to talk about your future when you can request it now. Don't wait for someone else's invitation to add value.
Look through your remaining PTO for the year (if you get paid time off) and create plans for how you'll use it – understanding that you want to keep at least 10% of it free for emergencies and such. Don't wait for the calendar to roll over – turn it over and fill it in the way you want. Now.
Look for opportunities to clean things up. Wasted time, negative conversations/people, busy work that holds no benefit, saying yes when you should say no. This list can get long, but look for the opportunities to give yourself back time that's being sucked out of your days right now.
Respond in the moment
One of the biggest sources of frustration for people is the 'would have, should have, could have' game.
These kinds of after-the-fact revelations are about as uplifting as a flat tire.
You can avoid that feeling and be instantly happier by addressing things when they happen.
Schedule things when the invitation is extended.
Let's say you're invited to set up a meeting, future lunch date, collaboration, etc.
Ask for dates and times right then and get it on the calendar or it's likely to get lost in the business of our day-to-day lives. And then guess what happens when we remember it?
We have a tinge of resentment that the other person never reached back out, left it all up to us, let it get forgotten and then we begin to have feelings about a negative belief regarding how important we are(n't) to that person because of all of that.
YUCK! Save yourself the aggravation. Schedule it in the moment.
Address mental record scratches when they happen
Mental record scratch is what I call those conversational crashes that happen when someone interrupts us, belittles us, bullies us, or does something that makes us do a mental double take like 'THAT did NOT just happen!' (LINK TO CONVERSATIONAL TIPS)
But it did.
If you don't address it in the moment or as close to it as possible, the likelihood of that getting done decreases with every minute of delay. And the result is never positive.
In fact, pay attention to statements of regret, gossip, anger, frustration – and notice how often they're tied to an incident that went unaddressed.
That said – it's imperative to always be respectful and professional when you're addressing a mental record scratch moment because, when done properly, the chance of repeat decreases dramatically (and sometimes disappears altogether).
What are some of your go-to tips for curbing challenges as they happen?
Helping others
This one generally goes without saying but helping others is one of the surest ways to produce happiness at work – and everywhere!
Being of assistance to someone else improves emotional well-being. It also improves self-esteem, confidence, that feeling of taking charge (#1) and creates social connection.
Remote, on-site, hybrid – doesn't matter. You hardly have to pay attention to find opportunities to be of service to someone else.
Can you think of a time when you did something for someone that changed their entire day? Total happiness, right?!
Photo: A woman wearing glasses is sitting at her computer, smiling as she rests her chin on her hand and looks off in the distance. Next to her is the Career Insights Consulting logo and the words How to be instantly happier at work
———————–
I'm Gretchen
I am a career and personal development strategist on a mission to teach you to do what you love without losing yourself.
Sane strategies. Serious results.
Get insights (like these), actionable tips and freebies in my newsletter