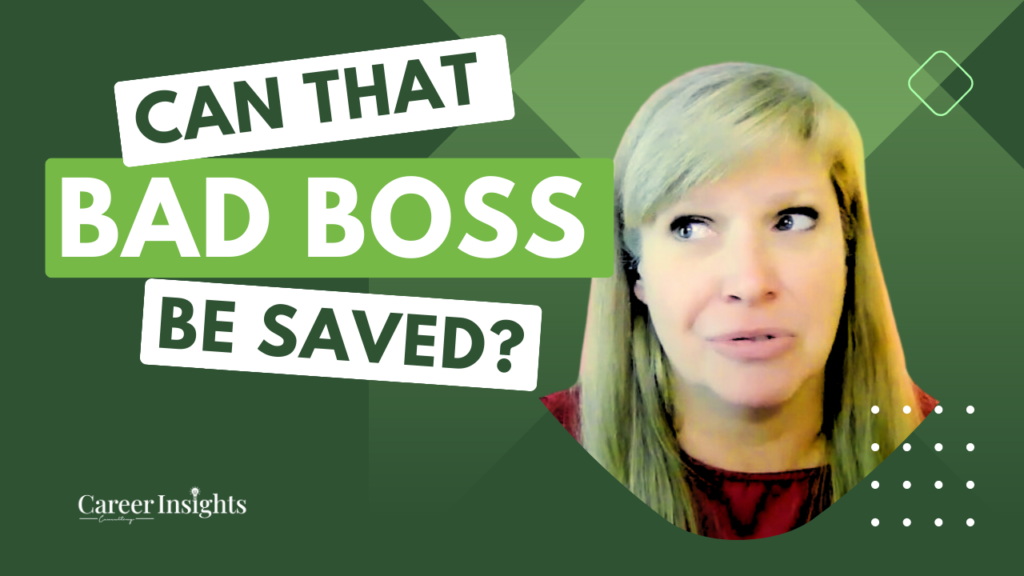 Can a bad boss be saved? Is it worth it to even try?
You tell me – what did I miss in my advice here?
Can this bad boss be saved?
A question was posed on Fairygodboss (link in comments) regarding a bad boss who presented one way during the interview and a totally different way on the job.
Vague priorities, conflicting directions – and now they're both frustrated.
This was my input on saving this bad boss:
"The shortest path to resolution is to be direct, professional and respectful when you discuss this with him.Because you need to address it – in the most delicate way, but you must.
The more time that passes with this type of poor communication coupled with vague and confusing expectations, the harder it's going to be to resolve.
Look at him as your partner in the business of your job. And look at yourself the same way for him.
Who knows what kind of conflicting direction he's getting from his leadership or what's happening elsewhere that's contributing to the fragmented experience you've had working with him, but this is a great time for a level-setting conversation between you both.
You are a good PM. Experienced. Proven.
He is leading a team. He needs strong people around him. You are strong.
Where he is not strong is clearly in his communication and expectation, and you can respectfully and tactfully address that with him.
Come to him with a plan.
Solve the problem he believes exists – even if you don't.
Put it in writing.
Give him a plan.
Execute that plan.
When he gives contradictory input to the agreed-upon plan, you can respectfully and tactfully remind him of what led to the plan — and pull him back on-plan.
Even leadership needs training and it's perfectly fine when that comes from unexpected sources – as long as it's handled in the right way.
You can do this."
Don't forget to reward yourself
If you do take on the admirable and totally rewarding task of training your bad boss – don't forget to reward yourself with a reminder that – no matter what – you got this!
In case you need any inspo – I gotchu!
You can put
this cute little sign
right there on your desk to remind you any time the going gets a little tough – that you are tougher.
Because you got this – no matter what comes your way.
How about
a deck of 100 inspirational and motivational cards
to help keep you grounded while you're saving that bad boss?
You can make your office your den of zen!
Why wear your heart on your sleeve when you can put your badassery there with this
sterling silver You Got This morse code bracelet
.
Don't forget to give yourself a high-five AND a hug for all of your professional prowess – and
do it in style with this pocket hug keepsake
. Never forget how far you've come to achieve what you have.
Original post on Fairygodboss
–
What would you have added to this bad boss advice?
📰 Get insights, tips and learn new strategies – Sign up for my monthly newsletter.