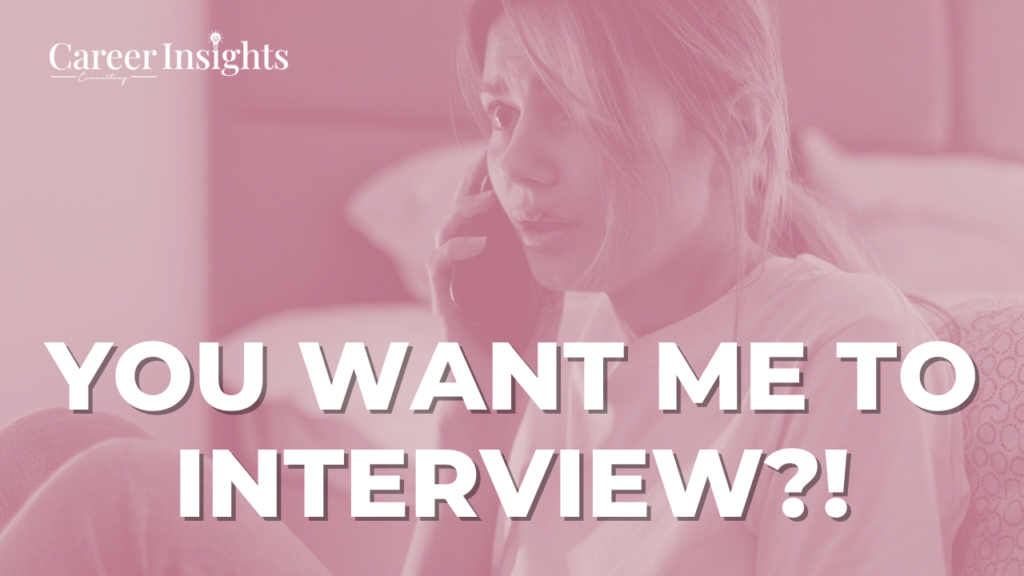 You may not realize it, but you might be sabotaging your job interview.
I mean, first things first – CONGRATULATIONS that you've scheduled an interview, right?!
This is an achievement!🏆
It means you successfully tailored your resume and matched to the opportunity well enough to be invited to a jobinterview .
That's HUGE, considering stats from LinkedIn and other career sites that say upwards of 70% never make it through the initial screening.
So bravo and well done on the documentation piece of your journey, right?! ✋
If you think of the jobseeker's journey in three parts (apply, interview, offer) – you're a third of the way there.
How you might be sabotaging your job interview
You should be brimming with confidence!
But something's off.
You're not excited.
You're nervous, but that's not all.
You're scared. Maybe even feeling undeserving.
Have you ever:
👉Hesitated to accept an interview?
👉Been unable to find time t talk with the recruiter or hiring manager?
👉Cancelled an interview opportunity?
🤔Does your mind immediately go to a negative past experiences when new opportunities happen?
🤔Does the thought of what could go wrong weigh so heavily on your mind that you're always on the lookout for – and find them?
It's ok.
It really is.
There are lots of behaviors that lead to sabotaging your job interview.
And everyone has them.
Everyone.
1️⃣ Knowing that they happen is a great first step to overcoming them.
2️⃣ Recognizing them when they happen is a terrific second step.
3️⃣ Separating them from who you are is the natural next (because they're not you).
Overcoming sabotage
🚶And soon you're confidently walking away from autopilot reaction and toward authentic response.
💎The best part? This is a practice that you can use in interviews – and everywhere in your life!
If you have an interview coming up – I've got something for you.
I put together a prep guide that breaks the process into three parts:
1. Pre-Interview Activities
2. In-Progress Interview
3. Post-Interview Follow-Up
I hope you find it helpful!
Let me know if I can answer any questions. 
———————–
👋I'm Gretchen
👉I am a career and personal development strategist on a mission to teach you to find what you love without losing yourself in the process.
​
🎯I create sane strategies that produce serious results.
📰 If you thought this post was interesting, you definitely need to sign up for my newsletter – where I give my subscribers exclusive insights, actionable advice and tips to take advantage of select opportunities.
=======================
Here are the ways to work with me at Career Insights:
=======================
🔥Get my FREE LinkedIn Optimization Guide: https://tinyurl.com/5n8dmdxt
🔥Sign up for 1:1 Private Career Consulting (6 Week): https://tinyurl.com/yc7fcmrd
🔥Check out my Signature IA Coaching Program (12 Week): https://tinyurl.com/yf2z8vcf
🔥For Public Speaking, Group Coaching, Team Development and all other queries: https://go.oncehub.com/GretchenSkalka
———-
➡︎Blog