No one – not anyone anywhere – can do what I can do.
☝️That is a fact.
'Who's your competition?"
When I was asked that question recently, my answer was simple and swift – 'I don't have any."
Because no one can do what I can do.
The converse is also true.
Everyone can do what I can do.
😕🤪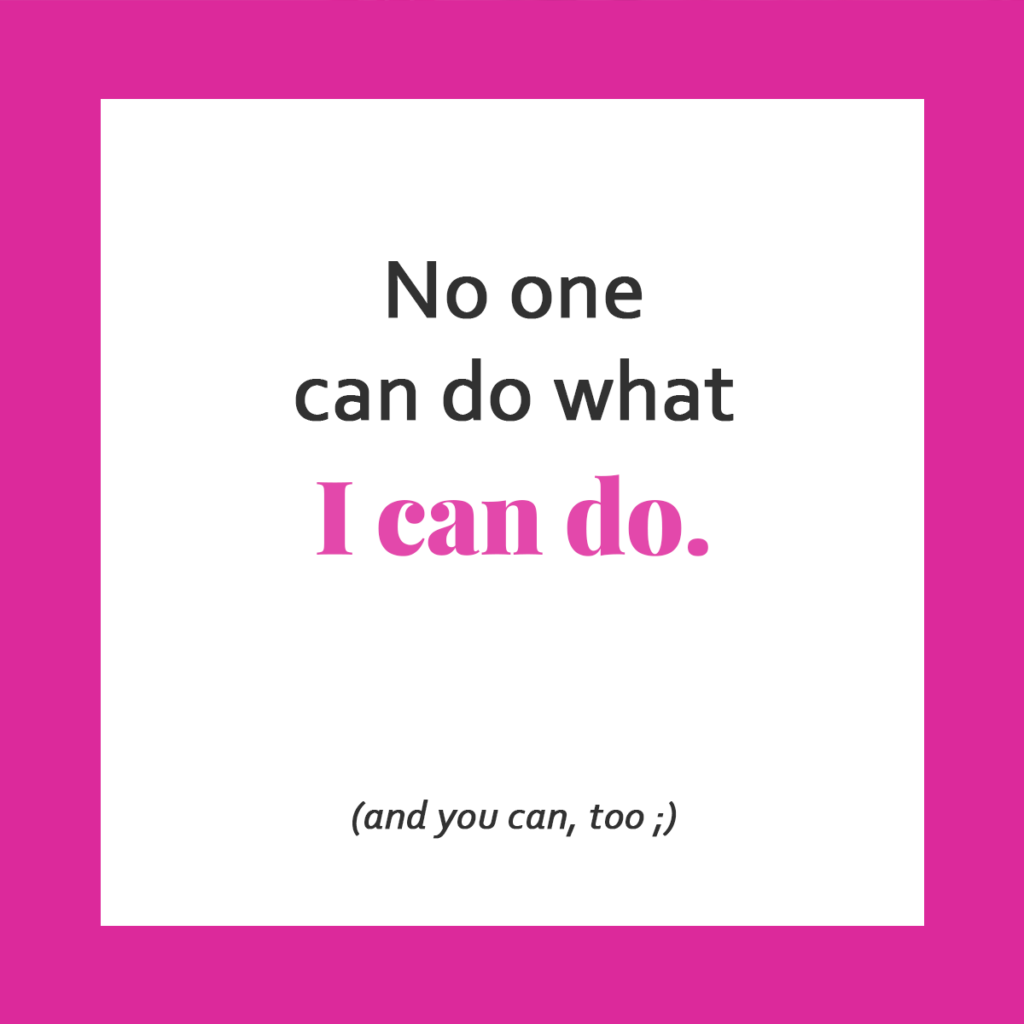 Because what I do is based on everything I know – from my experience.
Personal and professional.
Lots of people have the same training, but no one on the planet has the same lived experience and know-how that I do.
The same is true for you!
What I can do:
In a nutshell, I design personal systems for people to overcome what's keeping them from success.
😩Could be solving a nagging problem.
💼Could be changing a job situation.
🙌Could be reaching a goal.
The systems I design are blueprints for forward progress.
I know how to do it – and I am good at it – 𝘣𝘦𝘤𝘢𝘶𝘴𝘦 I've had to do it for myself.
Many times.
My experience is that there are two general ways things get dealt with when we have no idea how to get through them:
👎Come to a grinding halt or prolonged standstill in our life because we don't know how to proceed (and we're afraid of making the wrong choice, so we do nothing).
👍Implement a system (get a framework for action) – and get going.
👍That's what I do.
✅ I did it in 2011, when I developed the first video production system at TBC.
✅ I did it in 2015, when I created an enterprise-level system for strategic engagement.
✅ I did it in 2017, when I designed the system that got me (and our family) through my husband not waking up for 6 days after heart surgery.
✅ I did it in 2018, when I established the system that got us through the uncharted year+ aftermath of our house blowing up.
If you find yourself in a situation you don't know how to get through – I'm here.
𝗡𝗼 𝗼𝗻𝗲 𝗰𝗮𝗻 𝗱𝗼 𝘄𝗵𝗮𝘁 𝗜 𝗰𝗮𝗻 𝗱𝗼.
(𝘈𝘯𝘥 𝘺𝘰𝘶 𝘤𝘢𝘯, 𝘵𝘰𝘰 😉
———————–
👋I'm Gretchen
👉I am a career and personal development strategist on a mission to teach you to find what you love without losing yourself in the process.
​
🎯I create sane strategies that produce serious results.
📰 If you thought this post was interesting, you definitely need to sign up for my newsletter – where I give my subscribers exclusive insights, actionable advice and tips to take advantage of select opportunities.
=======================
Here are the ways to work with me at Career Insights:
=======================
🔥Sign up for 1:1 Private Career Consulting (6 Week): careercompass.careerinsightsconsulting.com/sixweeks
🔥Check out my Signature IA Coaching Program (12 Week): https://buildthelifeyouwant.careerinsightsconsulting.com/IAP
🔥For Public Speaking, Group Coaching, Team Development and all other queries: https://go.oncehub.com/GretchenSkalka
=======================
Connect with me on Social Media:
=======================
LinkedIn: https://www.linkedin.com/in/gretchenskalka/
YouTube: https://www.youtube.com/channel/UCGqauUcZo_q0Pz9JbMDC4QQ
Facebook: https://www.facebook.com/careerinsights.careercoach
Pinterest: https://www.pinterest.com/skalka/