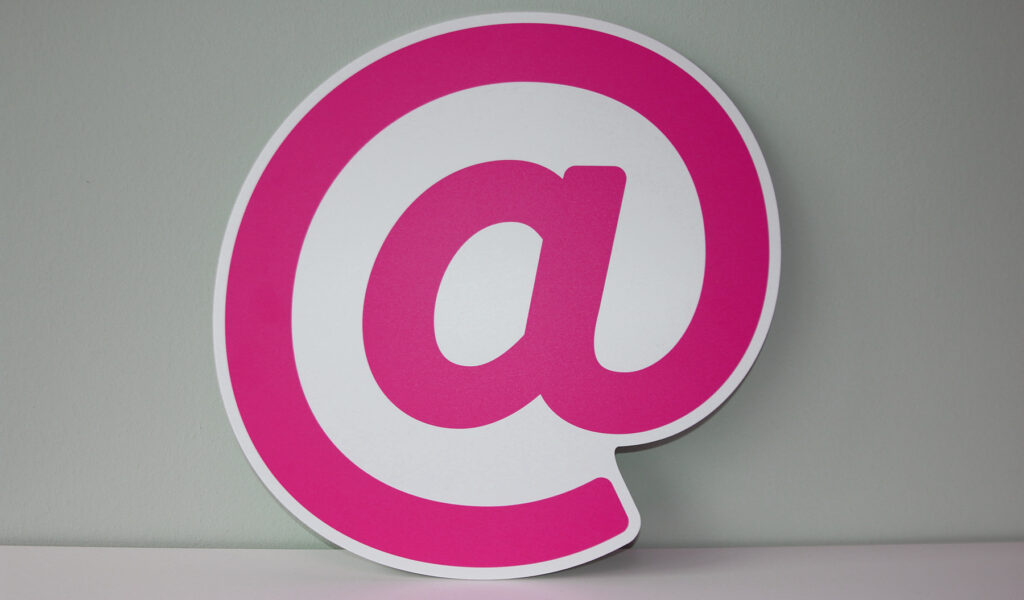 Hotmail, Yahoo and AOL – OH MY!
Youglowgirl83@, lakeluvr@ or Clevelandroxx@ OH NO!!
Your email address is one of the first identifiers a recruiter or hiring manager will see on your resume.
Right there under your name, next to your phone number and LinkedIn profile (if you don't have one – let's fix that!) – that last thing you want associated with your name is a goofy or inappropriate email address. And virtually every one I've ever seen have been tied to an old Hotmail, Yahoo or AOL account.
Email Address Best Practices
You want your email address to be memorable – but only for the right reasons.
Domains
The two easiest options here are to create a custom email address tied to your own domain, which would be a hosted solution. Or, you could create a Google account, which would be a web solution. Creating a Google creates an email account at the same time.
Gmail
I don't think it's a secret that the easiest way to create a free email suitable for a resume is to create a Gmail account, which automatically creates an email address tied to the user name you choose to create.
Low-Cost Email Domains
Just in case you're not already aware – a domain is everything that comes after the @ in an email address.
So, if you wanted to email me and tell me how helpful this article was for you (*wink wink) – you would send that to info@careerinsightsconsulting.com – where the domain is careerinsightsconsulting.com and the email prefix is info.
There are several low-cost email domain providers (some at like $1 a month) and I'd encourage you to research those, but two I can recommend are:
NOTE: Those are in no particular order and I'm not affiliated with any of them.
Name Selection
A lot of what I'm about to say here may seem like it should go without saying — because it should — but I'm including it because I've seen each of these happen!
Email Name Do's
Use your business name.

If you have a business of your own. Do not use your employers business name as your email address.

Use your name.
First and Last name
First Name, Middle Initial, Last Name
First Initial and Last Name
First and Middle Initials and Last Name
*you get the idea.
Email Name Don'ts
Don't put a number in your email address.

If you have a common name and are concerned it won't stand out or be remembered – avoid the temptation to differentiate it by sticking a number or numbers in it (like your birth year, birth month, graduation year, etc). It's extraneous and confusing.

Don't include personal information in your email address, such as a hobby, pet's name, nickname, etc.
Don't include your title or profession in your email name instead of your actual name.

Lots of people have the same profession or title, so using one instead of your name does nothing to help you.

Don't include a location in your email address.

This could be used to discriminate against or eliminate you from consideration.

Don't include your gender in your email address.

Same as #4

Don't use symbols in your email address.

Even if you've been told TO use symbols – DON'T use symbols. Some email providers won't even take them.

Don't use anything sexual, drug- or alcohol-related or goofy in your email address.

If you need to have the very (very) long list of reasons NOT to use this type of content in your email address, you may not ready for the world of work.

Don't use jokes, quips or famous quotes in your email address.
After all, you've taken the time to create a great resume! Don't blow your chances of being considered by using an unprofessional, unremarkable or potentially offensive email address.
———————–
👋I'm Gretchen
👉I am a career and personal development strategist on a mission to teach you to find what you love without losing yourself in the process.
​
🎯I create sane strategies that produce serious results.
📰 If you thought this post was interesting, you definitely need to sign up for my newsletter – where I give my subscribers exclusive insights, actionable advice and tips to take advantage of select opportunities.
=======================
Here are the ways to work with me at Career Insights:
=======================
🔥Sign up for 1:1 Private Career Consulting (6 Week): careercompass.careerinsightsconsulting.com/sixweeks
🔥Check out my Signature IA Coaching Program (12 Week): https://buildthelifeyouwant.careerinsightsconsulting.com/IAP
🔥For Public Speaking, Group Coaching, Team Development and all other queries: https://go.oncehub.com/GretchenSkalka
=======================
Connect with me on Social Media:
=======================
LinkedIn: https://www.linkedin.com/in/gretchenskalka/
YouTube: https://www.youtube.com/channel/UCGqauUcZo_q0Pz9JbMDC4QQ
Facebook: https://www.facebook.com/careerinsights.careercoach
Pinterest: https://www.pinterest.com/skalka/