Transferable skills. Which ones do you have? Which ones are hiding in plain sight?
I started developing mine long before I ever got paid for anything.
My guess is that you did, too.
What transferable skills did you develop early?
I wasn't fast or agile enough to make any of the sports teams at Vincent Middle School, so I joined the band.
I'd been playing piano for years already and could read music easily, so it seemed logical.
My older sister played the flute, and I wanted to play it, too.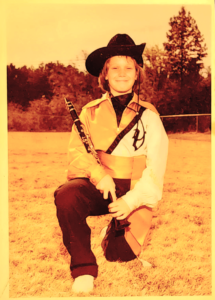 But, somehow I ended up with the clarinet.
🤷‍♀️
I learned it quick – and quickly got bored.
So I conspired with my band director to give me access to more instruments.
He kept me in the woodwinds, but helped me learn the flute, piccolo, alto and tenor sax (call 'em brass if you want, but in my school they were part of the woodwind section) and a few more from the concert band closet.
Over time I learned to play more than 10 different instruments (not all of them well) – but the single- and double-reeds were my favorites.
What transferable skills are you hiding?
Embouchure.
It's not exactly my most transferable skill, but it was the one I credit with helping me learn so many 'winds.
And, while embouchure isn't an attention grabber in the world of work – my powers of persuasion (demonstrated by my ability to create the opportunity to learn more than one instrument at such a young age) most certainly DO command attention.
I have a lot of transferable skills.
You do, too.
Are you the Chatty Kathy who can strike up a conversation with anyone? That's a social skill that can open doors.
Are your closets, books and DVDs organized by color, title or genre? That's an organizational skill that can be used for on-the-job efficiencies.
Are you the one people call when they need cheering up or cheering on? That's an interpersonal skill that can be used to keep people motivated, on task and productive.
You have a wealth of transferable skills standing by, ready to command attention for you.
Did reading this bring any particular gems to mind for you?
Photo: Gretchen Skalka, around age 12, taking a yearbook picture dressed in her Vincent High School gold, white and black marching band uniform. She is pictured on bended knee in a grassy field, sweaty but grinning slightly for the camera as she holds her clarinet.
———————–
👋I'm Gretchen
👉I am a career and personal development strategist on a mission to help women at career crossroads make hard decisions with confidence, ease and flow.
​🎯Sane strategies. Serious results.
📰Get insights, actionable tips and freebies in my newsletter
=======================
FREEBIES:
=======================
🔥FREE RAM Thinking Workbook
🔥 Your Perfectly Positioned LinkedIn Profile
=======================
How to work with me:
=======================
🔥6-Week Private Career Consulting 
🔥IA Coaching Program (12 Week)
🔥Public Speaking, Group Coaching, Team Development and all other queries
=======================
Let's Connect:
=======================
*NEW YouTube Channel
📧 If none of that is right for you now, sign up for my newsletter to get actionable tips, practical advice and insider insight delivered to you each month