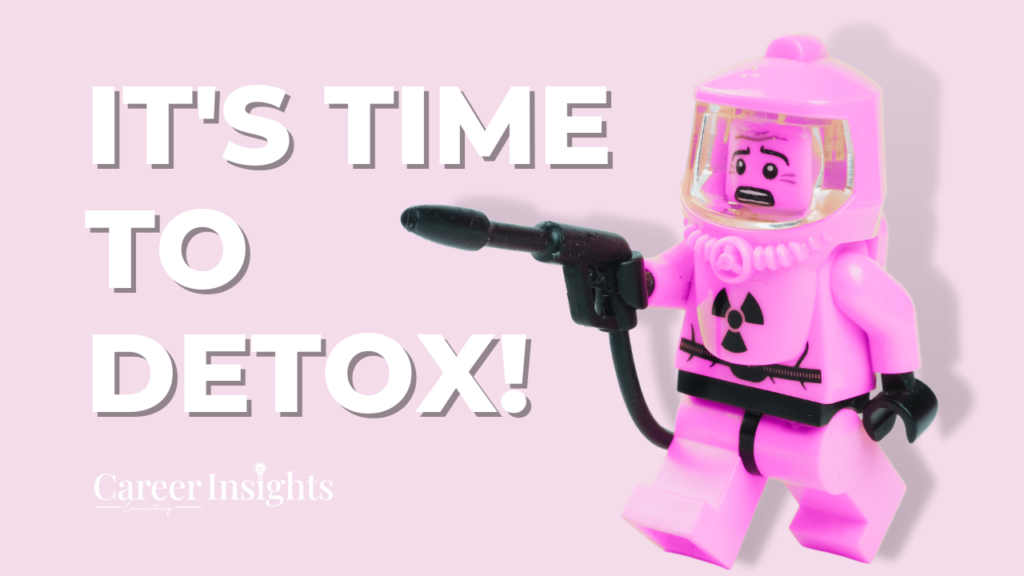 You must take the time to detox your mind.
Friday is an excuse.
TGIF and all – it's the day we remind each other to take a break, take it easy and take a load off ourselves (and our minds) for the next two days.
The truth is the Friday is an excuse.
A GOOD EXCUSE!
(to detox your mind!)
Because, while it's completely legit (like, 1000000%) to remind ourselves of that ANY day, it feels more acceptable on end-of-week Fridays.
Detox your mind
So here we are.
And I'm taking the opportunity of this day to hop on that mental mind hack and encourage you to take time this weekend (and any time) to shake off the stress, anxiety, worry and otherwise detox from all of the emotional doo doo that never (like, ever) serves us.
And because I know it's completely easier said than done for most of us, here are a quick 4 tried and true ways I've taken the time to detox my mind over the years:
🧘1. Meditate (if you know me, you know why I lead with it)
🚶2. MOVE! Get up, get out, get going – however it is that floats your personal boat!
🤣 3. Laugh! Watch funny animal Shorts, check out a comedy club, poke harmless fun at your best friend … find your inner funny and let it go wild!
😴 4. Sleep! It's the best bio-battery recharge I know of – but I also know how stress wrecks that rhythm. So set the stage (put phones and clocks away), create a calm space (music? candles? ahhhhh) and go for it (even if it's just a cat nap). Luxuriate in ZZZZZZZZs!
What are your favorite ways to mentally detox and physically relax?
Will you be doing any of them this weekend?
Photo: A Lego hazmat figure dressed in pink against a pink background. The Lego figure is wielding a spray gun and is walking toward the words It's Time To Detox above the Career Insights Consulting logo
———————–
👋I'm Gretchen
👉I am a career and personal development strategist on a mission to teach you to find what you love without losing yourself, your 💩 or going 💣nuclear in the process.
​
🎯I create sane strategies that produce serious results.
📰 If you thought this post was interesting, you definitely need to sign up for my newsletter – where I give my subscribers exclusive insights, actionable advice and tips to take advantage of select opportunities.
=======================
Here are the ways to work with me at Career Insights:
=======================
🔥Sign up for 1:1 Private Career Consulting (6 Week): careercompass.careerinsightsconsulting.com/sixweeks
🔥Check out my Signature IA Coaching Program (12 Week): https://buildthelifeyouwant.careerinsightsconsulting.com/IAP
🔥For Public Speaking, Group Coaching, Team Development and all other queries: https://go.oncehub.com/GretchenSkalka