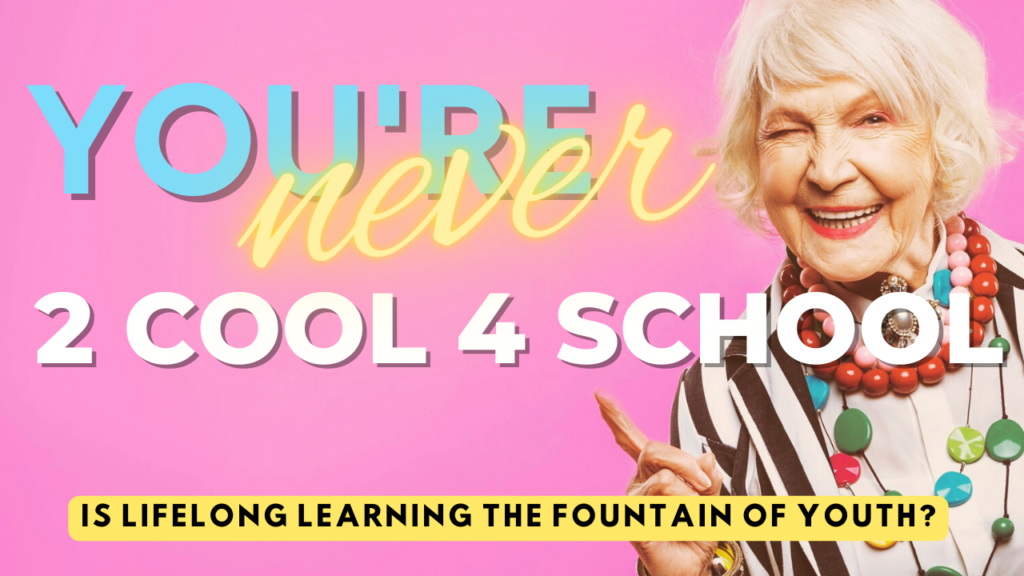 I seriously think benefits of lifelong learning make it the fountain of youth!
From improved brain health to healthier relationships and longer lives, the list of benefits of lifelong learning is crazy long, y'all!!
People who classify as lifelong learners enjoy everything from variety of experience (aka quality of life), to expanded social networks, increased ability to build trust with others and increased employability in an ever-changing economy.
For employers, this is significant because continuous learning is a key to innovation and growth, which gives employers a competitive edge and helps recruit top talent!
For employees, it's critical because investing in the benefits of lifelong learning can keep their skills up-to-date and build job security. Because continuous learning is a source of personal fulfillment, employees who pursue their passions, learn new skills and take up new hobbies they feel more empowered and engaged at work.
In the ever-changing professional landscape, lifelong learning can be a critical differentiator for both employer and employee (win/win for sure!).
Keeping our minds young increases positivity and curiosity, which brings physical benefits that include better stress management and decreased depression.
And there are more ways to prove to yourself that lifelong learning is the fountain of youth NOW than there ever have been!
Because, well – the internet.
More benefits of lifelong learning
Taking into account whatever questionable factuality you may encounter (it's crazy out there – be careful), the internet makes it possible to learn about an unlimited number of topics and to find additional resources that can help (videos, books, experts, courses, networking opportunities, events, and much more).
Core benefits of lifelong learning include:
Increased motivation and goal creation
An uptick of overall enjoyment and satisfaction
Development of new pursuits and hobbies
Ongoing skills and opportunity development
ALL of that points to an increased quality of life and keep your mind young!
Anyone who stops learning is old, whether at twenty or eighty. Anyone who keeps learning stays young. The greatest thing in life is to keep your mind young.

— Henry Ford
So how can you prove to yourself that lifelong learning is the fountain of youth?
Some easy, organic ways to incorporate it into your life include:
Make a list of your own interests and goals
Find resources to explore them further
Find a way to connect that exploration (learning) to a personal goal such as reading more or learning a new skill
Make a plan for incorporating learning into your life by learning a new hobby, volunteering, joining a club or group
Whatever you aspire to do or be or experience, becoming a lifelong learner is a clear path to personal satisfaction and fulfillment.
Do you consider yourself a lifelong learner?
What tips would you add to the list?
Photo: A smiling, winking cool-looking older woman wearing a black-and-white striped jacket and white shirt with multi-colored beaded necklaces and bracelets is pointing to the words You're Never 2 Cool 4 School above a smaller set of words Is lifelong learning the fountain of youth?
———————–
👋I'm Gretchen
👉I am a career and personal development strategist on a mission to help women at career crossroads make hard decisions with confidence, ease and flow.
🎯Sane strategies. Serious results.
📰Get insights (like these), actionable tips and freebies in my newsletter
=======================
FREEBIES:
=======================
🔥 Get your FREE Perfectly Positioned LinkedIn Profile
=======================
How to work with me:
=======================
🔥6 Weeks of Private Career Consulting
🔥IA Coaching Program (12 Week)
🔥Public Speaking, Group Coaching, Team Development and all other queries
=======================
Let's Connect:
=======================
*NEW YouTube Channel
📧 If none of that is right for you now, sign up for my newsletter to get actionable tips, practical advice and insider insight delivered to you each month