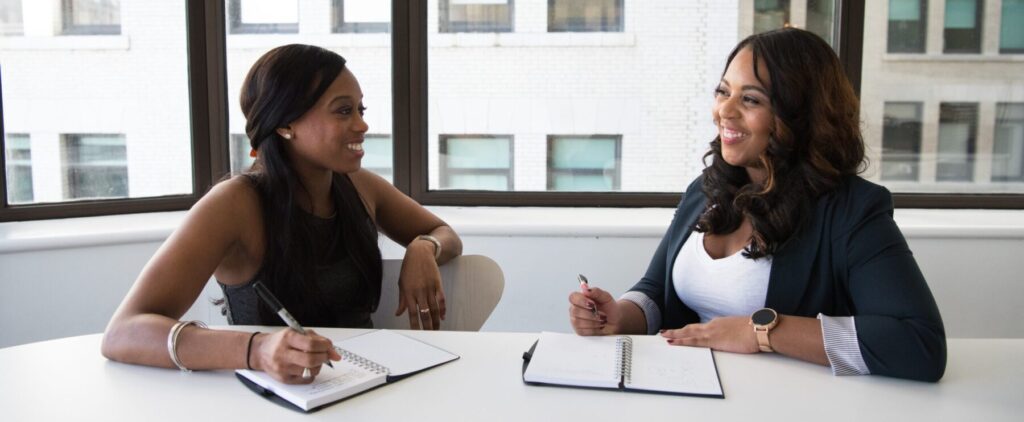 Google 'what is a career coach' and you'll get a gozillion answers … each one slightly different from the rest but all correct at the same time.
Because career coaching, at its core, is a purpose-driven partnership with the goal of helping change or improve your professional life (which is a fancy way of saying we help you figure out what you want and how to get it). But what that means for you is going to be different than what it means for anyone else.
And so, there is a common, fundamental goal of every coaching partnership, but the path each coaching relationship takes will vary.
What is a career coach – part of a partnership
The Coach
Career coaches are advocates. Our role is to help you identify and achieve your career goals, and there are several strategies we use to do this. One common methodology is:
Consultation
Gap Analysis
Goal Setting & Mapping
Empowerment
Opportunity Readiness
We help uncover and further develop the value and capabilities that are uniquely you but have been buried by months or years (or decades!) of career frustration, disappointment, resentment (and sometimes anger).
The Client
Career coach clients are people who are feeling one or a range of emotions and likely exhibiting behaviors that are preventing them from getting what they want from their work lives. They seek out and partner with a coach because they're hungry for a change they've been unable to realize going it alone.
They understand that working with a career coach is a two-way street. The coaching relationship is mutually-accountable, which is what makes it mutually beneficial. The primary traits necessary for partnership success are for the client to:
Be Coachable
Be Honest
Be Accountable
Be Open
Be Ready
The Process
Coaching partnerships find success through process. Some of my clients aren't even sure what they want when they first reach out – they just know they don't want what they've currently got.
The process has to start with building that relationship (which builds the partnership). This requires a lot of introspection on the part of the client. Real soul searching to get to the root of the issue(s) holding you back. This is a revelatory process in every way. It can literally open floodgates of opportunities, ideas, understandings – and more – that provide the foundation upon which everything else we achieve is built.
So, when you ask 'what is a career coach?' you want to be sure that part of the answer is advocate.
You have to trust that your coach IS your advocate, which also means you have to be prepared to sometimes be uncomfortable with your coach pushing you if you're not used to this type of partnership. I will push to hold you accountable to yourself. I will push you to recognize and develop your personal power (and the responsibilities that come with it).
I can't help you if I'm not doing that for you.
The process – and each client's involvement – determines its own timetable. This is critical. Strapping it to a predetermined schedule will lead to failure. Change is part of the process – so being open to change is vital. Change can be scary – but oh, how exciting it also can be! If you're reading this, you've already embraced the fear and are now embarking on the excitement that comes from daring to imagine a different life for yourself!
"We but mirror the world. All the tendencies present in the outer world are to be found in the world of our body. If we could change ourselves, the tendencies in the world would also change. As a man changes his own nature, so does the attitude of the world change towards him. This is the divine mystery supreme. A wonderful thing it is and the source of our happiness. We need not wait to see what others do."

~ Mahatma Gandhi
So, what is a career coach – to you? I'd love to help you answer that question – and more!
———————–
👋I'm Gretchen
👉I am a career and personal development strategist on a mission to teach you to find what you love without losing yourself in the process.
​
🎯I create sane strategies that produce serious results.
📰 If you thought this post was interesting, you definitely need to sign up for my newsletter – where I give my subscribers exclusive insights, actionable advice and tips to take advantage of select opportunities.
=======================
Here are the ways to work with me at Career Insights:
=======================
🔥Sign up for 1:1 Private Career Consulting (6 Week): careercompass.careerinsightsconsulting.com/sixweeks
🔥Check out my Signature IA Coaching Program (12 Week): https://buildthelifeyouwant.careerinsightsconsulting.com/IAP
🔥For Public Speaking, Group Coaching, Team Development and all other queries: https://go.oncehub.com/GretchenSkalka
=======================
Connect with me on Social Media:
=======================
LinkedIn: https://www.linkedin.com/in/gretchenskalka/
YouTube: https://www.youtube.com/channel/UCGqauUcZo_q0Pz9JbMDC4QQ
Facebook: https://www.facebook.com/careerinsights.careercoach
Pinterest: https://www.pinterest.com/skalka/